[Undecided arrival] Bonbon Chocolat Ariba Assortment 10 pieces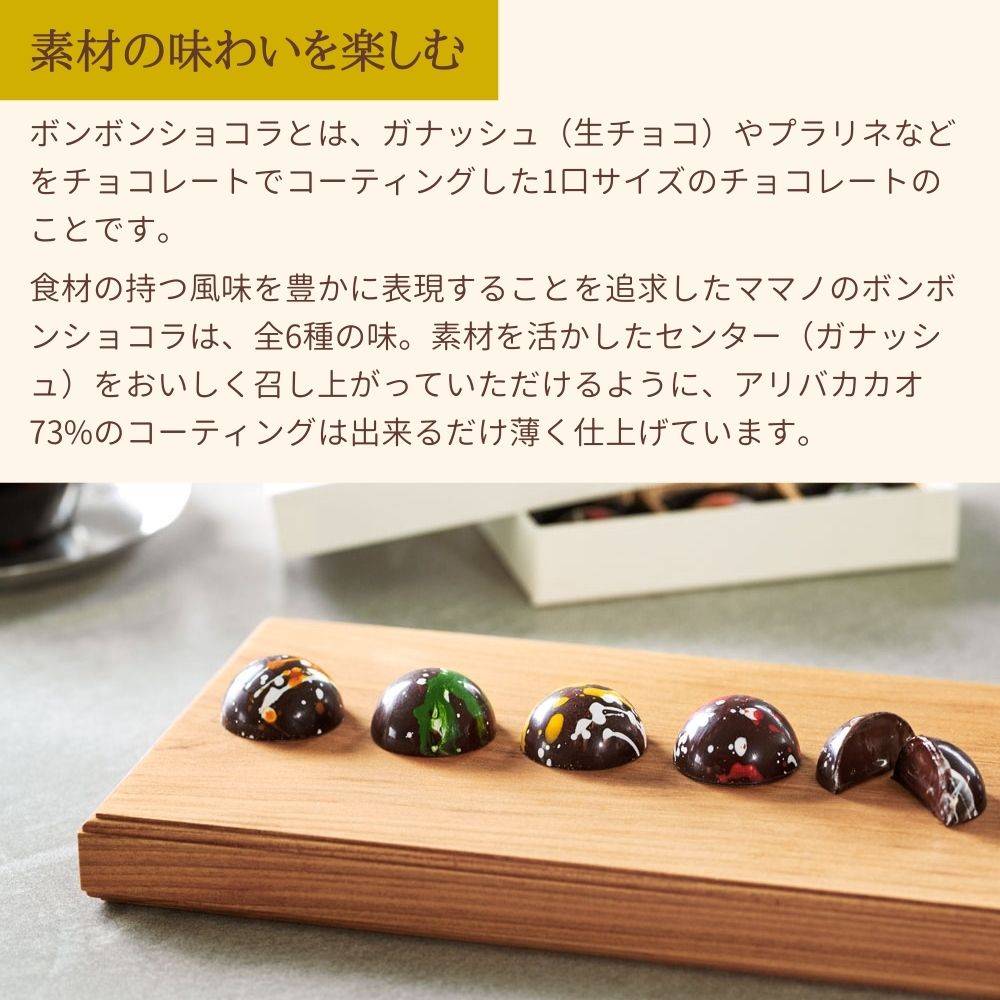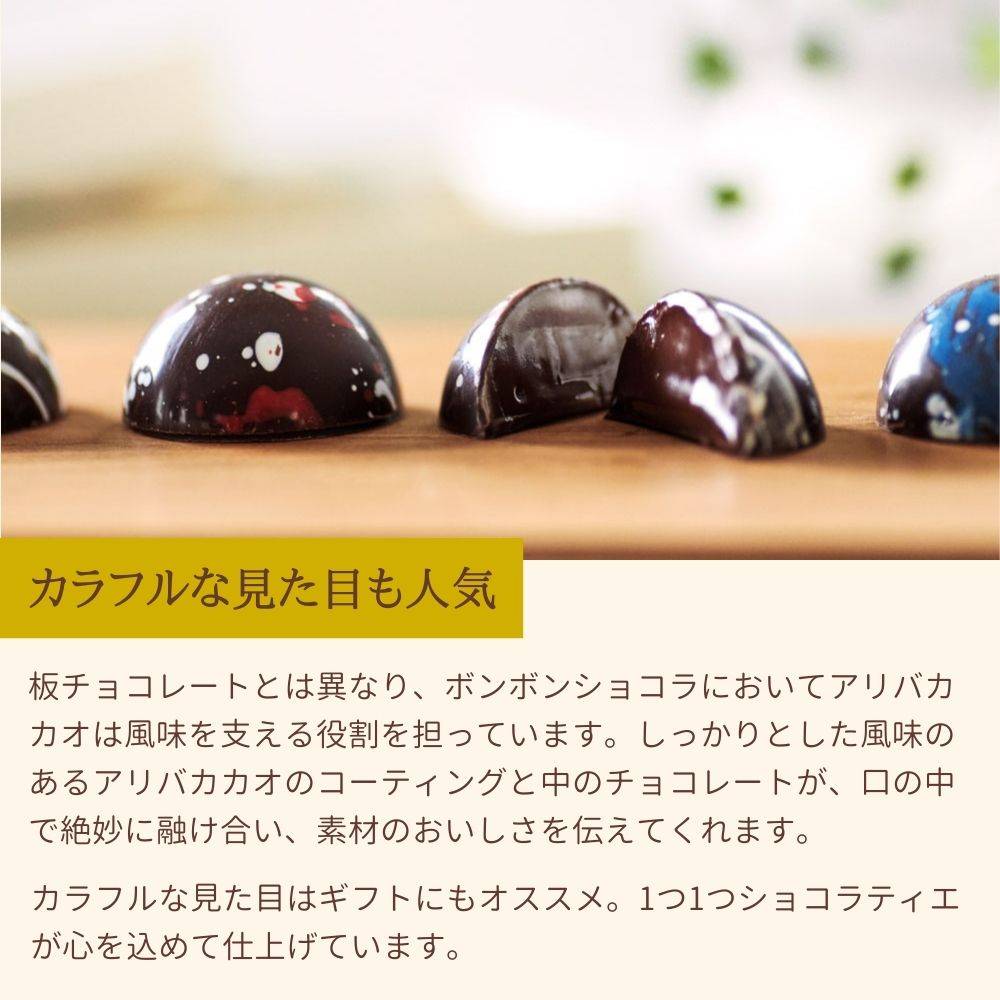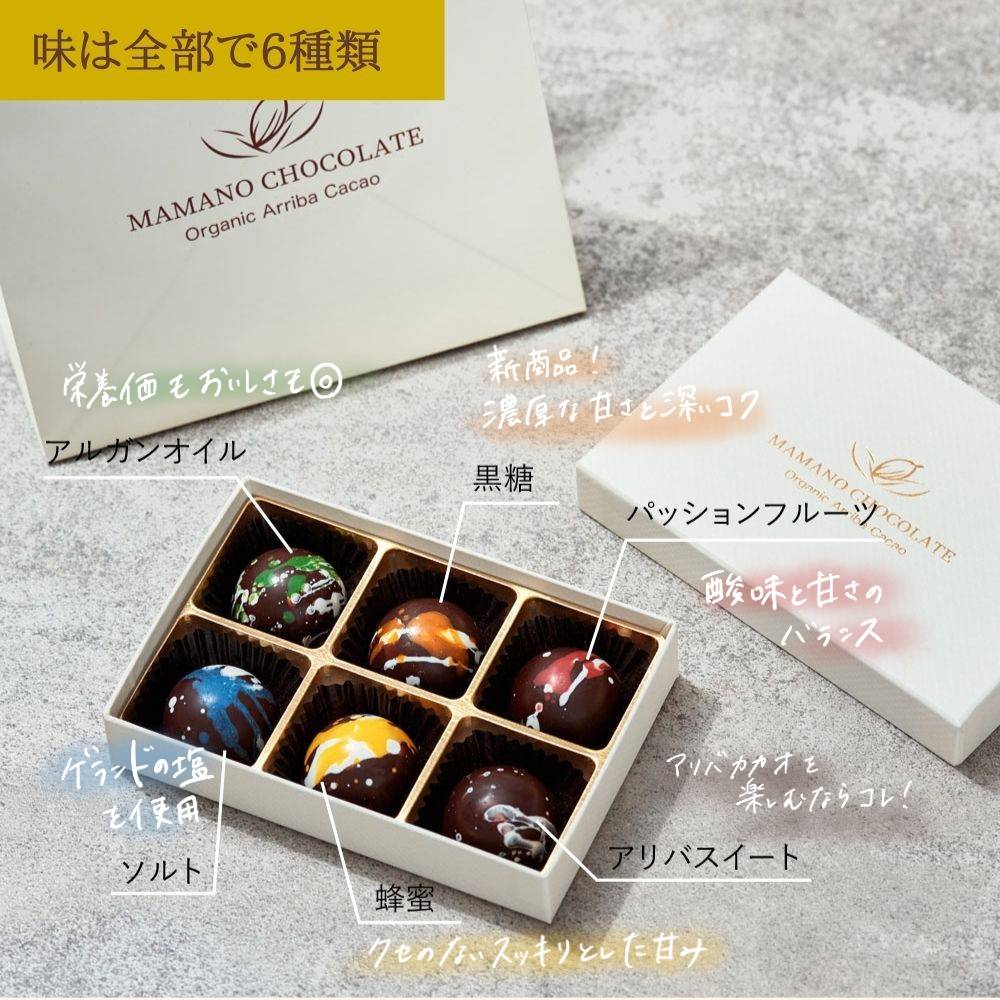 Among Mamano's bonbon chocolates, the sweet is the one where you can feel the taste of Alibaba cacao most directly. The Ariva milk chocolate-based ganache (soft chocolate inside) is scented with the single malt Rolls-Royce, the famous "McCarran".
McCarran is a whiskey made by aging rich and fruity raw liquor made in a long-established distillery in the Speyside region of Scotland in sherry barrels. It is characterized by its unique sweetness, even though it does not contain any sugar.
An adult sweet bonbon chocolate with the floral and milky taste of gentle Alibaba milk chocolate and the sweetness of macallan aged in sherry barrels.


So that you can feel the taste of salt directly, do not mix it with chocolate, but put a few grains on the top of hemispherical chocolate. I'm using "Fleur de sel". Translated literally, it is a precious salt with flower-shaped crystals called "Salt Seika". The Guérande salt pans in Brittany, France, are still made using traditional techniques without the use of machines.
The tequila named "Cuervo 1800 Anejo" is matched with the bitter chocolate ganache.

Among the tequila whose grade changes from "swing, reposado, anejo" to each aging, we use aneho with a long aging period. Aneho, which has been aged to remove its roughness and has a rich barrel flavor, goes well with the strength of Ariba chocolate.
The combination of tequila and salt, which is popular in Mexico, the home of tequila, is expressed in chocolate.
Argan is a plant that grows vigorously without dying even in the harsh environment of 50 degrees Celsius with almost no rain. The oil is a blessing of the earth from the vast Sahara Desert of Morocco.
Argan oil is also known as beauty oil, but edible quality oil is very valuable. It has high nutritional value in terms of health, but what is noteworthy is its rich aroma.
In order to maximize the fresh scent similar to hazelnut oil and olive oil, the ganache of Ariva milk chocolate with less bitterness is filled with the scent of argan. Ganache with plenty of argan oil is heavy and cheap, but by adding vodka, it gives a refreshing and sharp taste, and it has a rich yet easy-to-eat taste.
The points of delicious honey that Mamano thinks are unheated and Japanese honey bees.

There are two types of honeybees, Western honeybees and Japanese honeybees. Western honeybees have better collection efficiency and are the mainstream, but Japanese honeybees collect nectar from many flowers and collect less. , Is said to produce honey with a richer taste.

The honey used in bonbon chocolate is unheated honey collected mainly by Japanese honeybees in the Shikoku region. Bourbon "Wild Turkey" is a perfect match for Ariba milk chocolate, which has a strong milky feel, and ganache, which has a rich yet sarcastic honey flavor.

Wild Turkey is an American bourbon whiskey, characterized by a rich sweetness reminiscent of vanilla due to the aging of strongly charred new barrels. Interestingly, this whiskey actually contains the flavoring ingredient "vanillin" from vanilla beans. Honey ganache with vanilla scent is added to create a taste reminiscent of rich caramel.
Like cacao, passion fruit is said to be native to the Amazon. It is characterized by a strong acidity, but it is said that the varieties grown in the tropics have a stronger acidity. The passion fruit from Tanegashima used in Mamano has a weaker acidity than the original, and is characterized by a good balance with sweetness.

The combination of milk chocolate with a strong sweetness and ganache of passion fruit is a tropical taste reminiscent of a tropical country. The vodka that goes well with the acidity is combined. Vodka, which is often used for cocktail bases, gives freshness and sharpness, and its powerful taste that is comparable to the name of "passion" is especially recommended for those who like sweet and sour sweets.
It is the sweetest and richest bonbon chocolate among the 6 types, with the richness of brown sugar and the bitterness of Ariba dark chocolate deeply mixed and resonating deeply.
Only the precious native species of sugar cane from Tanegashima are carefully grown without pesticides, and brown sugar is gently cooked using traditional handmade manufacturing methods.
Brown sugar, which stores abundant natural minerals and does not heat more than necessary, has less lye and acridness, and is characterized by its mellow sweetness and deep richness.
Whether you want to eat sweet chocolate without thinking about it, or if you want to enjoy the deep richness and flavor, it is a bonbon chocolate that shows various expressions depending on the mood when you eat it.
Handbag with logo (large) 50 yen
If you would like to carry it as a gift, please purchase it from the add button.
* If the handbag is not selected, it is not included from the viewpoint of reducing the environmental load.
Delivered in 15 days or more
Chocolate Raw material name: Chocolate (manufactured in Ecuador), cream, water candy, invert sugar, whole milk powder, butter, honey, brown sugar, passion fruit, argan oil, spirits, salt / lecithin, coloring agent (cocoa butter, titanium dioxide, yellow 4) , Red 40, Blue 1, Blue 2)
(Manufactured in the same workshop as products including wheat and buckwheat)
Per box: Energy 374.98kcal, Protein 3.82g, Fat 21.62g, Carbohydrate 34.56g, Salt equivalent 0.06g/ Estimated value

How to use the online shop
10,000 yen or more → 500 yen
Orders less than 10,000 yen → 1,000 yen
Delivery date and delivery method
If you do not specify after ordering, we will ship within 5 days as a guide.
Products will be shipped after payment is confirmed. (If you are in a hurry, please select something other than bank transfer.)
The delivery company is Yamato Transport.
About the delivery address at the time of returnresponsible personPlease contact
About delivery temperature zone
There are two types of delivery temperature zones: refrigerated and frozen.
There are three types of product classification according to temperature range: refrigerated delivery only, frozen delivery only, and refrigerated frozen delivery.
For products that can be delivered in either refrigerated or frozen delivery, we will decide which delivery method to use, refrigerated or frozen, depending on the season, temperature, and the type of product included in the package.
If you add a refrigerated delivery only item to your cart, you cannot add a frozen delivery only item to your cart.
If you add a frozen delivery only item to your cart, you cannot add a refrigerated delivery only item to your cart.
1. Credit card
You can use VISA / Master Card / American Express / JCB.
2. Paypal
If you select Paypal, you do not need to enter shipping information because you will get Paypal information.
3. Google Pay、Amazon Pay
4. Paidy Next month payment (convenience store / bank)
We will issue an invoice on the 1st of the following month with the final billing amount closed at the end of each month, and will inform you by e-mail / SMS (short message) by the 3rd.
Payment methods are convenience store payment (convenience store installation terminal), bank transfer and account transfer.
The payment deadline is up to 10 days for convenience store payments and bank transfers. In the case of direct debit, it will be deducted on the 12th *. However, it may be 20th * in January and May.
Depending on the payment method, a fee will be charged for each monthly payment (billing). Customers are responsible for 356 yen (tax included) for convenience store payments and a transfer fee for bank transfers. No payment fee will be charged for direct debit.
Payment Method
convenience store
Account transfer

(Automatic withdrawal from bank account)

Bank transfer
Payment date
Until 10th
12th*
Until 10th
Commission paid

* Occurs only once a month regardless of the number of times of use

356 yen (tax included)
0 Yen
Transfer fees vary depending on the financial institution
* If the financial institution is closed, the next business day
If you would like a message card as a gift, please write your message in the remarks column of the order cart. We will print it on Mamano's postcard and deliver it with the product.
Message entry page ↓
Sample postcard ↓
From April 10, 2020, we started a 1% reduction system for the purchase price of products in online shops.
How to check points
Log in to My Page

point
You can check from.
Smartphone My Page ↓
Click the menu icon "three" at the top left of the top page to log in

Login with PC ↓
Click the person icon at the top right of the top page

How to use points
You can use points on the cart screen.
ボンボンショコラ10個入
残念ながらスイート、一個しかなく家族とのシェアーが出来ず、私の口に入らず!
パッションフルーツはもう少し香りが欲しかった。
ソルトは私には塩味が強く感じた。
ヘーゼルナッツ、もう少し濃くが欲しい。
アルガンオイル、いい感じ。
一番いいな、と感じたのは蜂蜜です。
全体的には、後味スッキリ上質ショコラだと思います。