Astrio -Dried persimmon and chocolate- 1 piece [Mini size]
* This is one size smaller than usual.
Precautions
If it is sold out, please register your e-mail address by clicking "Receive E-mail Notification of Arrival" on the left side of the screen. We will inform you as soon as it arrives.
I can't eat persimmon calyx
Dried persimmon is a blessing of nature, so there are individual differences in color, size, and texture.
The dried persimmon has a lot of water, and the mouth may open and the ganache may be visible from above. You can enjoy it deliciously without any problem in quality, so please enjoy it including various shapes as a blessing of nature.
Approximate size is 5 cm in diameter x 4 cm in height
White powder may be attached to the persimmon, but it is the sugar content of the persimmon, so please enjoy it with confidence.
The color may gradually turn black even before the expiration date, but this is because the chocolate inside is familiar and the color of the chocolate can be seen through. Please enjoy with confidence.
Simple transparent bag packaging
I put chocolate ganache in a bowl of dried persimmonCreative chocolate confectionery.
For ganacheSmoked tea, red wine barrel aged whiskey, Alibaba cacaoChocolatier Homma is a specialty that has been warmed up for many years, packed with ingredients that are particular about it.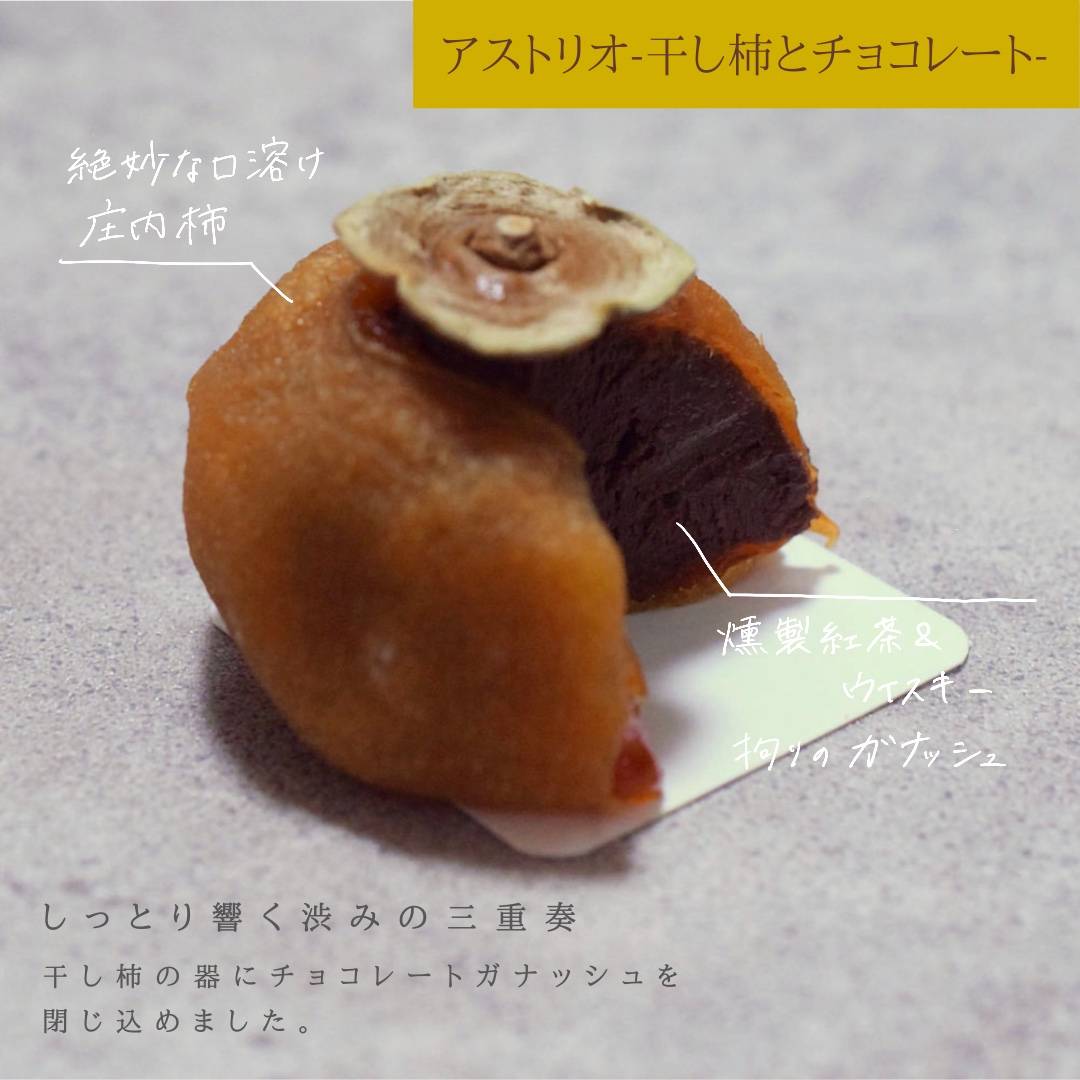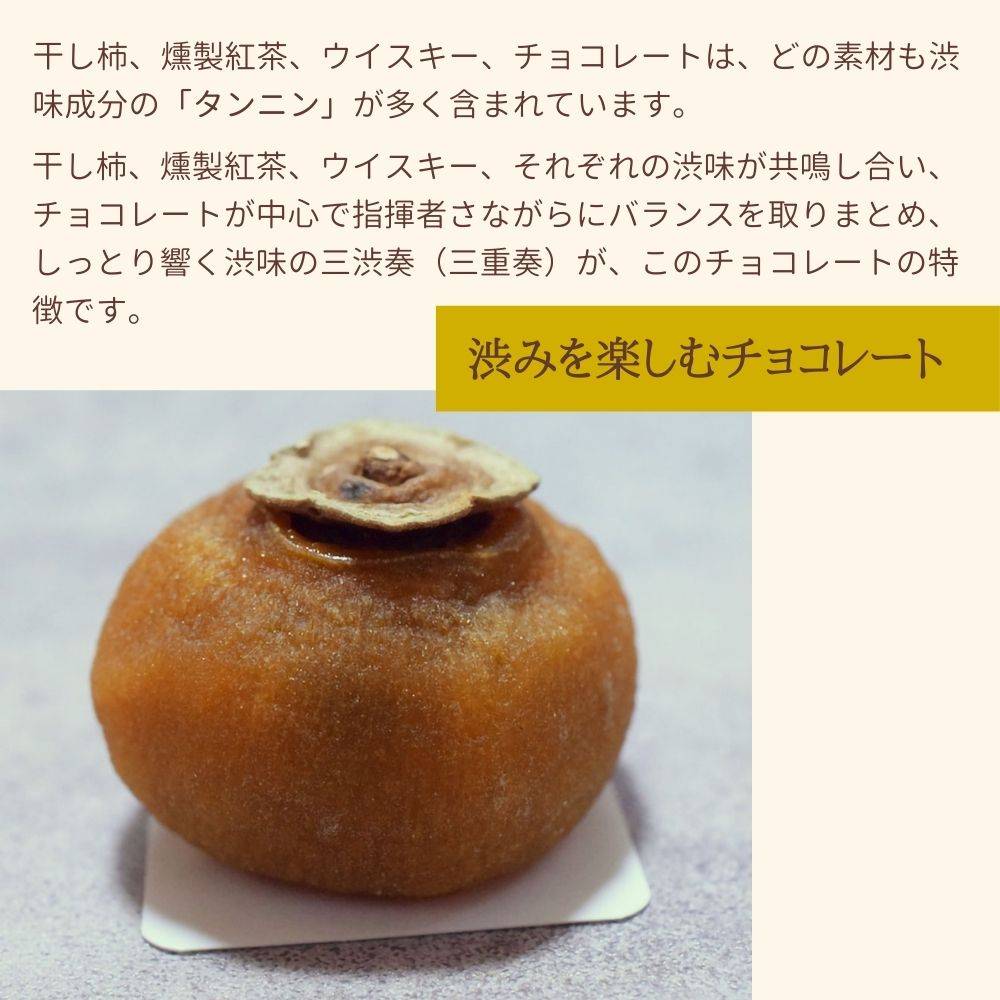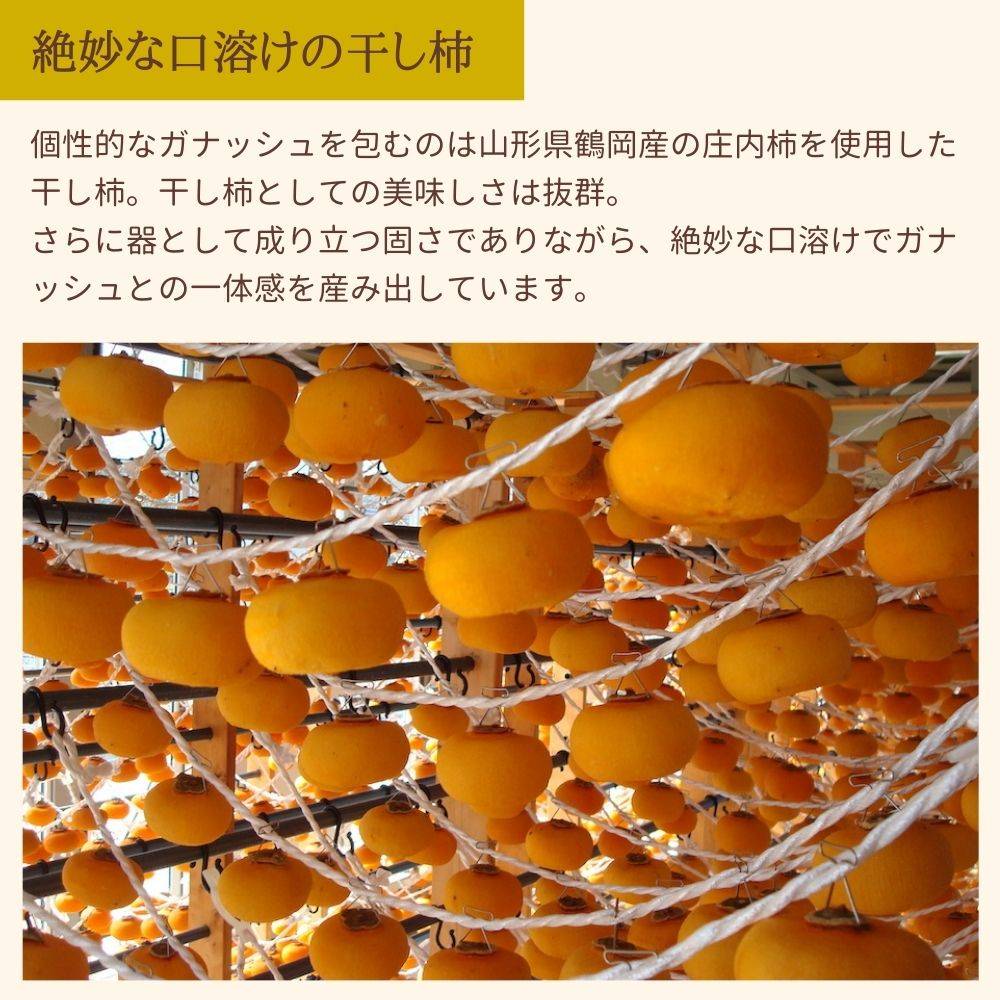 ---
Origin of the product name "astrio"
In frenchAstringent, which means astringent, and trioWas combined to make "astrio".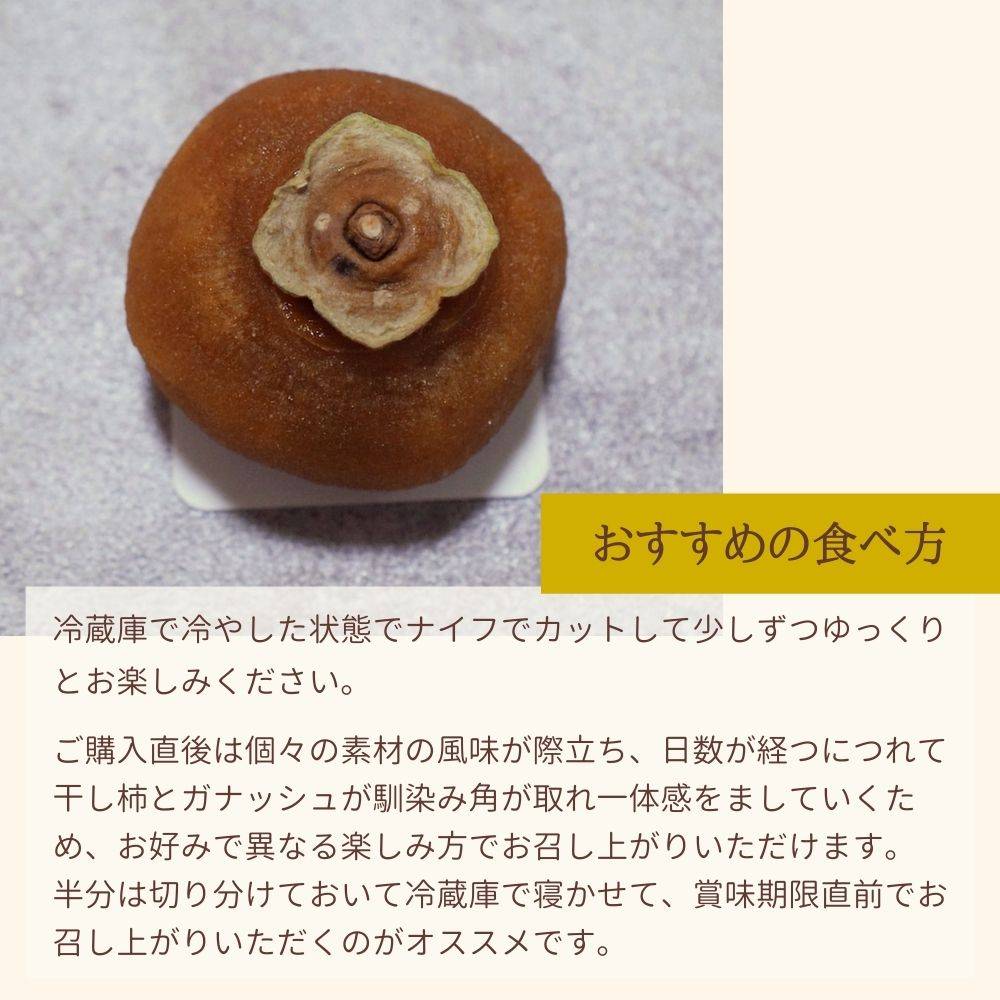 This is the recommended drink to match.
・ Black tea (Darjeeling, etc.)
・ Whiskey (aged in sherry barrels or bourbon barrels with a mild taste)
・ Sake (sweet and dry)
Product development secret story
Homma: Among the products developed by Mamano, this product took a long time from conception to commercialization. Although the persimmon and tea mariage had an image for a long time, it is delicious but unsatisfactory just by combining them. I was feeling it.
Smoked black teaabout
I met Mr. Kaneroku Matsumotoen of Shizuoka two years ago and learned that "smoked black tea" is as popular as whiskey in the UK, and I was very attracted to the first domestically produced smoked black tea made by Mr. Matsumotoen in Japan.
In the process of making smoked black tea, it is possible to give different flavors depending on the wood (chips) used for smoking, but this time we will use crushed barrel material that has been used for decades for aging Japanese whiskey and has finished its role. Chip.

Smoked black tea smoked with chips soaked in whiskey to a level where you can feel alcohol, you can feel a unique smoked scent different from peach (peat scent), and the mellow scent of Japanese black tea and the pleasant astringency of tannins mix. , I feel the one and only flavor.
Dried persimmonabout
Originally, dried persimmons are Japanese sweets that are unique to Japan and have a condensed sweetness by applying traditional treatment to persimmons that are too astringent to eat because of their strong tannins. This time, I used dried persimmons from Shonai persimmon from Tsuruoka, Yamagata prefecture.

Of course, the deliciousness of dried persimmon was outstanding, but when using it to confine chocolate in the persimmon, until I encountered a persimmon that has both the hardness that can be established as a container and the softness that creates a sense of unity with ganache with exquisite melting in the mouth. I had a hard time.
whiskyabout
The whiskey used for ganache is Japanese whiskey that has been aged in French oak red wine barrels. In addition to the flavor components of the original whiskey, the astringency of tannins derived from wine barrels is added to create a fruity and complex flavor.

We hope you enjoy it. "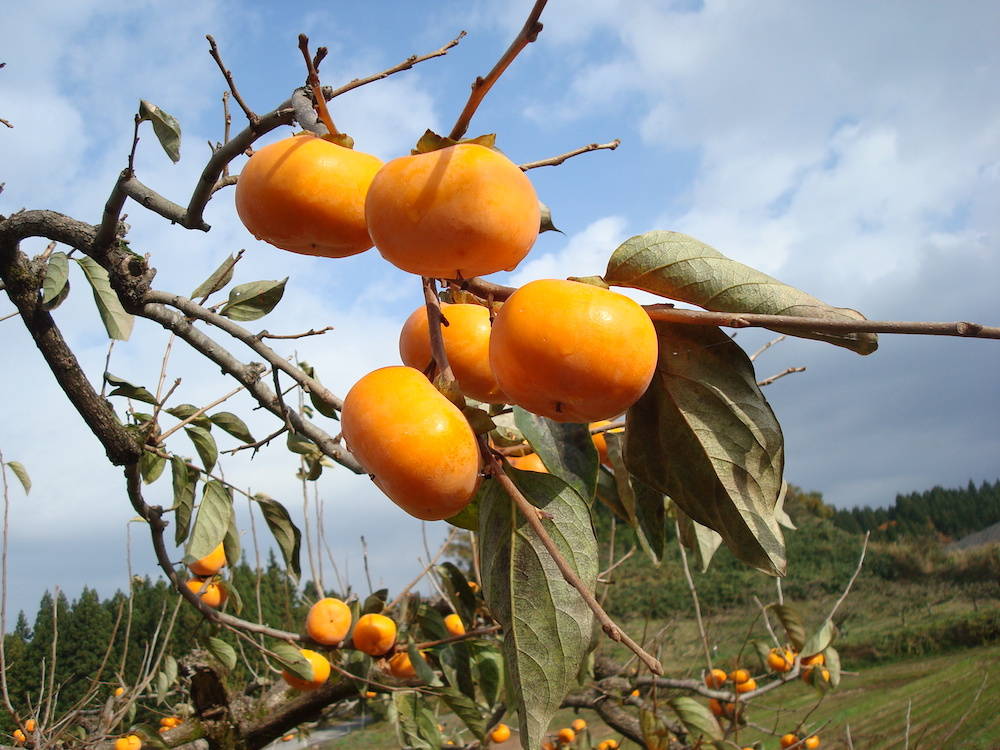 Handbag with logo (small) 50 yen
If you would like to carry it as a gift, please purchase it from the add button.
* If the handbag is not selected, it is not included from the viewpoint of reducing the environmental load.
Delivered in 3 days or more
Dried persimmon (Yamagata prefecture), chocolate (Ecuadorian), butter, water candy, converted sugar, cream, spirits, smoked black tea leaves (Shizuoka prefecture) / antioxidant (sulfur dioxide)
Estimated value per piece: Energy 237.83 kcal, protein 1.86 g, fat 7.95 g, carbohydrate 39.18 g, salt equivalent 0 g

How to use the online shop
10,000 yen or more → 500 yen
Orders less than 10,000 yen → 1,000 yen
Delivery date and delivery method
If you do not specify after ordering, we will ship within 5 days as a guide.
Products will be shipped after payment is confirmed. (If you are in a hurry, please select something other than bank transfer.)
The delivery company is Yamato Transport.
About the delivery address at the time of returnresponsible personPlease contact
About delivery temperature zone
There are two types of delivery temperature zones: refrigerated and frozen.
There are three types of product classification according to temperature range: refrigerated delivery only, frozen delivery only, and refrigerated frozen delivery.
For products that can be delivered in either refrigerated or frozen delivery, we will decide which delivery method to use, refrigerated or frozen, depending on the season, temperature, and the type of product included in the package.
If you add a refrigerated delivery only item to your cart, you cannot add a frozen delivery only item to your cart.
If you add a frozen delivery only item to your cart, you cannot add a refrigerated delivery only item to your cart.
1. Credit card
You can use VISA / Master Card / American Express / JCB.
2. Paypal
If you select Paypal, you do not need to enter shipping information because you will get Paypal information.
3. Google Pay、Amazon Pay
4. Paidy Next month payment (convenience store / bank)
We will issue an invoice on the 1st of the following month with the final billing amount closed at the end of each month, and will inform you by e-mail / SMS (short message) by the 3rd.
Payment methods are convenience store payment (convenience store installation terminal), bank transfer and account transfer.
The payment deadline is up to 10 days for convenience store payments and bank transfers. In the case of direct debit, it will be deducted on the 12th *. However, it may be 20th * in January and May.
Depending on the payment method, a fee will be charged for each monthly payment (billing). Customers are responsible for 356 yen (tax included) for convenience store payments and a transfer fee for bank transfers. No payment fee will be charged for direct debit.
Payment Method
convenience store
Account transfer

(Automatic withdrawal from bank account)

Bank transfer
Payment date
Until 10th
12th*
Until 10th
Commission paid

* Occurs only once a month regardless of the number of times of use

356 yen (tax included)
0 Yen
Transfer fees vary depending on the financial institution
* If the financial institution is closed, the next business day
If you would like a message card as a gift, please write your message in the remarks column of the order cart. We will print it on Mamano's postcard and deliver it with the product.
Message entry page ↓
Sample postcard ↓
From April 10, 2020, we started a 1% reduction system for the purchase price of products in online shops.
How to check points
Log in to My Page

point
You can check from.
Smartphone My Page ↓
Click the menu icon "three" at the top left of the top page to log in

Login with PC ↓
Click the person icon at the top right of the top page

How to use points
You can use points on the cart screen.
Wooo小さい
食いしん坊の私には小さいのですが笑笑とても美味しいかったです
少しずつ段階を置くのが〇
届いてすぐ1/4を切って食べた。思っていたよりチョコのお酒の香りが強く、干し柿をあまり感じなかった。柿とチョコがまだ馴染めておらず2人それぞれそっぽを向いている感じがした。
翌日また1/4を食べた。初日でお酒の風味には覚悟ができていたからか、初日より口に馴染んだ。心なしか柿とチョコも昨日より親密度が上がったのか喧嘩しなくなっていた。
翌日残りを食べた。柿とチョコはだいぶ仲良くなっていた。柿とチョコも喧嘩をせず手を取り合ってハーモニーを奏でていた。
少し時間を置いた方がおいしい。
めちゃめちゃ美味しい
干し柿の中にあんなに綺麗にチョコをフィリングしてあるのがすごいです。
そして、チョコレートが最高に美味しいです。