Chocolate liquor 100% Ariva 200g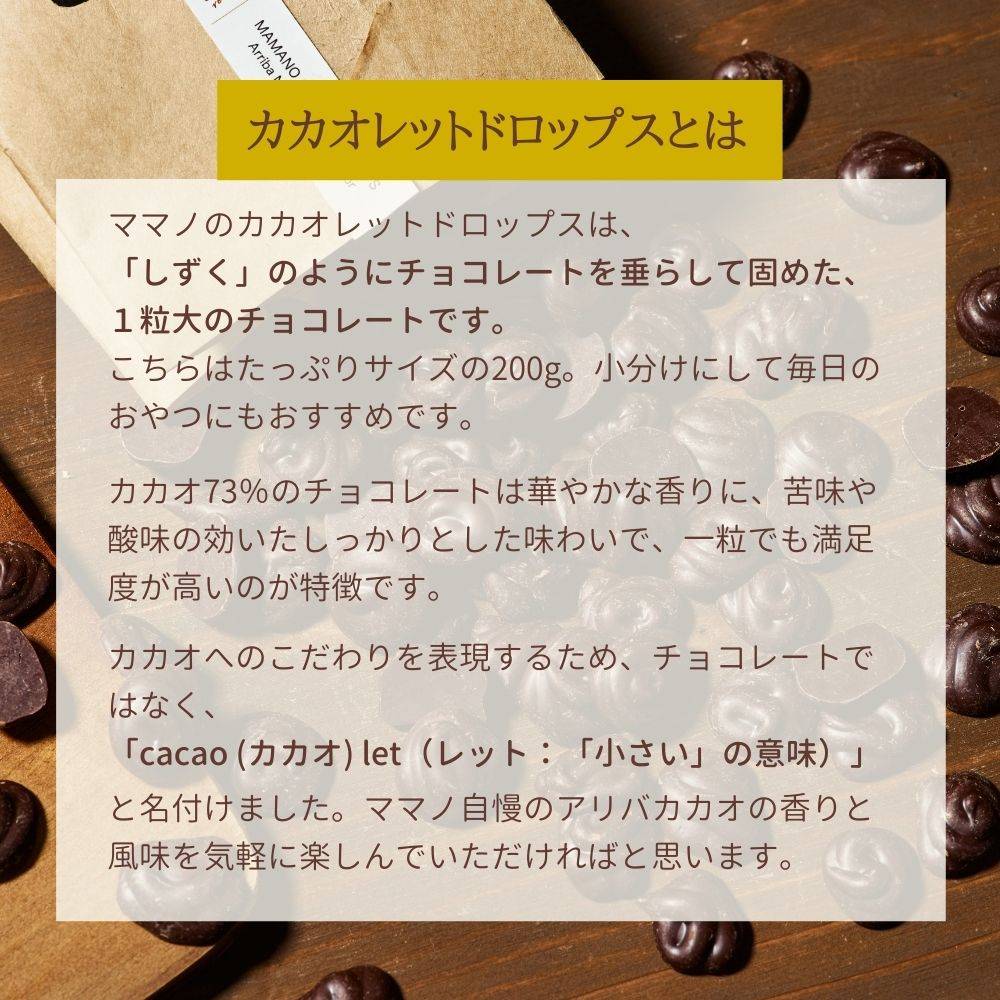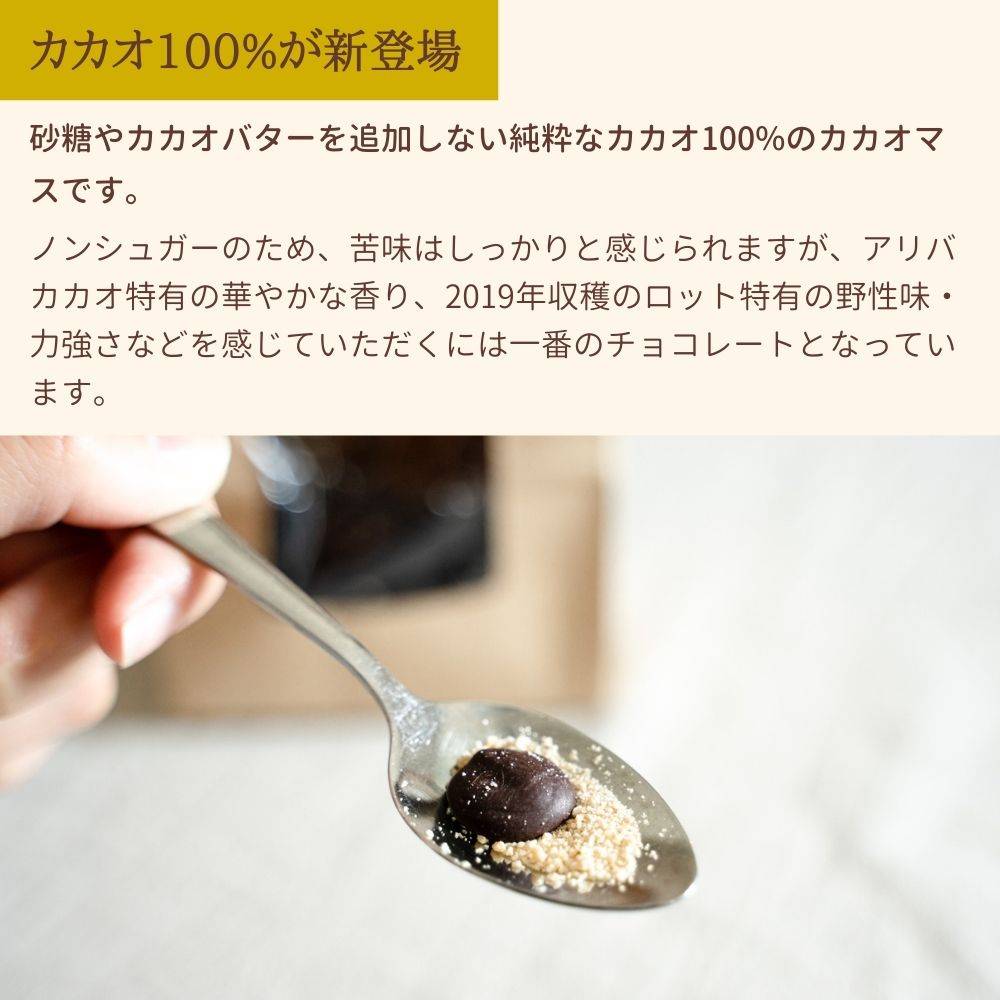 If you want sweetness, add it with your favorite sugar.

Also good for making sweets
Since each grain is small, it dissolves more easily in milk and cream than chocolate bar, making it ideal for making sweets.

Please use it as a material for making hot chocolate or chocolate at home. It can be used in various ways, such as mixing it with cookies or scones.

Hot chocolate recipe made with cocoa let drops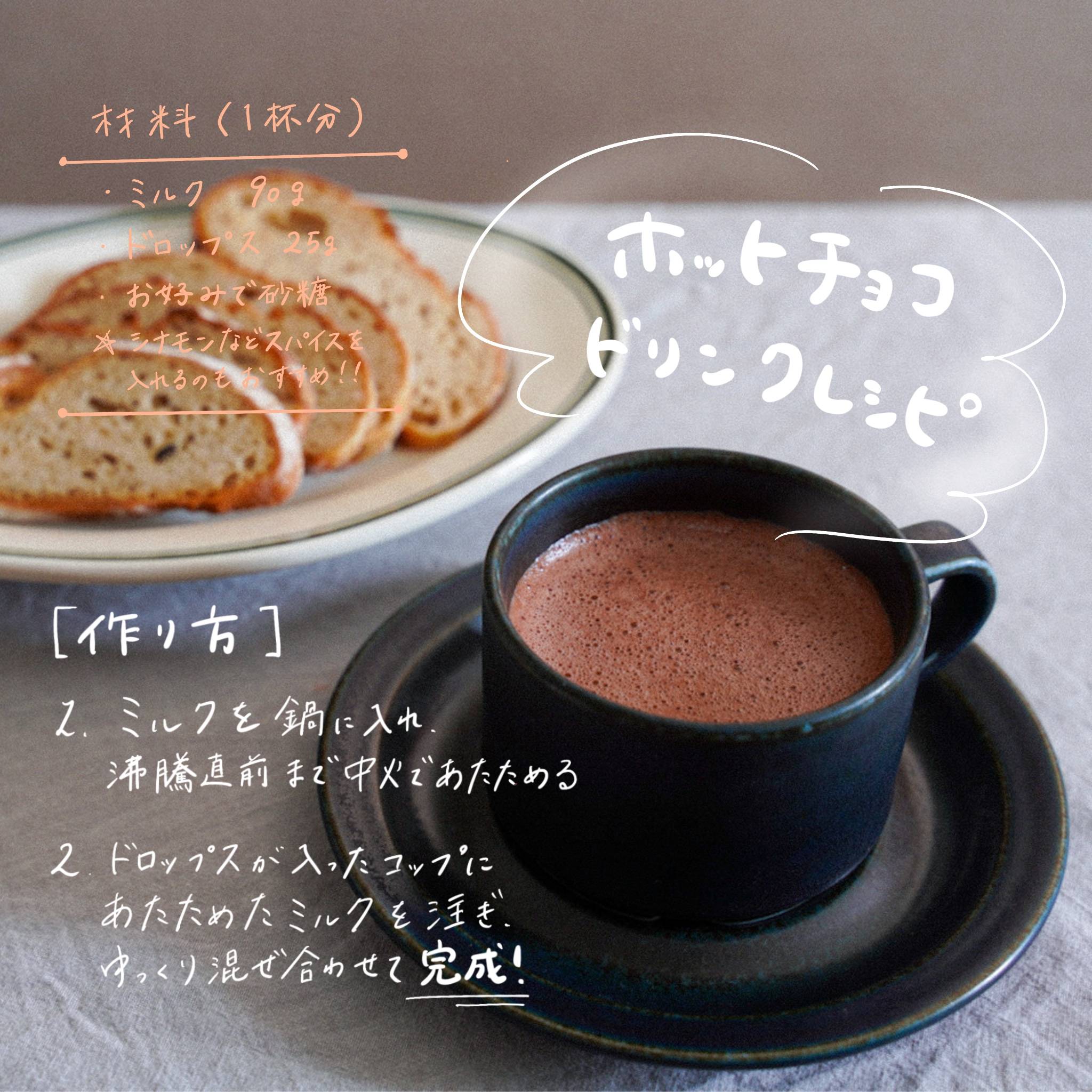 First, warm the milk until just before boiling and turn off the heat. Add cocoa let drops and sugar to your favorite amount of milk. Stir well with a mini whipper and pour into a cup. If you like, you can enjoy a different flavor by adding spices such as cinnamon and chili powder.
If you want to refrain from caffeine, such as before going to bed, add more milk and reduce the amount of chocolate to make hot chocolate with a gentle taste and caffeine-less. Add more cocoalet drops to make it non-sugar, and you'll have a satisfying bitter hot chocolate that's perfect for breakfast.
Chocolate cocktail Irish coffee style recipe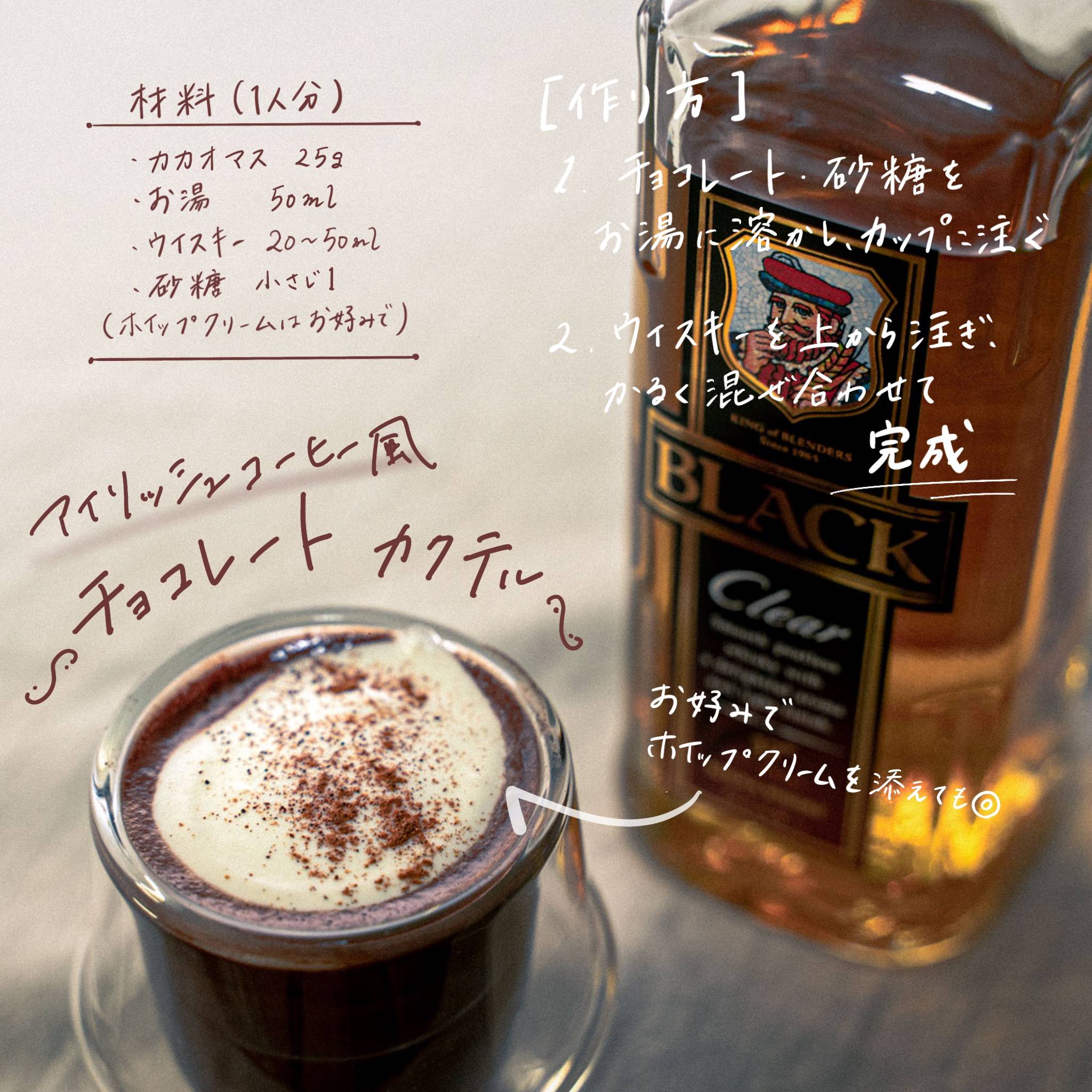 At night, we would like you to accompany your time alone before going to bed or relaxing time with chocolate cocktails. I made a recipe inspired by Irish coffee. You can make delicious cocktails with commercially available whiskey.
The following is a guide for materials. If you are weak in alcohol, try using less whiskey than the amount.
"100% chocolate liquor Ariva" 25g
Hot water 50ml
Whiskey 20-25 ml (favorite)
1 teaspoon sugar
Whipped cream to your liking
First, dissolve chocolate and sugar in hot water and pour it into a cup. Pour the whiskey from above and mix gently. Finally, add whipped cream if you like.
I hope Mamano chocolate will be a source of energy for your daily life.
Handbag with logo (small) 50 yen
If you would like to carry it as a gift, please purchase it from the add button.
* If the handbag is not selected, it is not included from the viewpoint of reducing the environmental load.
Delivered in 30 days or more
Cold and dark place below 21 ℃
Estimated value per product (200g):Energy 1314kcal, protein 28.4g, fat 109.2g, carbohydrate 54.4g, salt equivalent 0.00g

How to use the online shop
10,000 yen or more → 500 yen
Orders less than 10,000 yen → 1,000 yen
Delivery date and delivery method
If you do not specify after ordering, we will ship within 5 days as a guide.
Products will be shipped after payment is confirmed. (If you are in a hurry, please select something other than bank transfer.)
The delivery company is Yamato Transport.
About the delivery address at the time of returnresponsible personPlease contact
About delivery temperature zone
There are two types of delivery temperature zones: refrigerated and frozen.
There are three types of product classification according to temperature range: refrigerated delivery only, frozen delivery only, and refrigerated frozen delivery.
For products that can be delivered in either refrigerated or frozen delivery, we will decide which delivery method to use, refrigerated or frozen, depending on the season, temperature, and the type of product included in the package.
If you add a refrigerated delivery only item to your cart, you cannot add a frozen delivery only item to your cart.
If you add a frozen delivery only item to your cart, you cannot add a refrigerated delivery only item to your cart.
1. Credit card
You can use VISA / Master Card / American Express / JCB.
2. Paypal
If you select Paypal, you do not need to enter shipping information because you will get Paypal information.
3. Google Pay、Amazon Pay
4. Paidy Next month payment (convenience store / bank)
We will issue an invoice on the 1st of the following month with the final billing amount closed at the end of each month, and will inform you by e-mail / SMS (short message) by the 3rd.
Payment methods are convenience store payment (convenience store installation terminal), bank transfer and account transfer.
The payment deadline is up to 10 days for convenience store payments and bank transfers. In the case of direct debit, it will be deducted on the 12th *. However, it may be 20th * in January and May.
Depending on the payment method, a fee will be charged for each monthly payment (billing). Customers are responsible for 356 yen (tax included) for convenience store payments and a transfer fee for bank transfers. No payment fee will be charged for direct debit.
Payment Method
convenience store
Account transfer

(Automatic withdrawal from bank account)

Bank transfer
Payment date
Until 10th
12th*
Until 10th
Commission paid

* Occurs only once a month regardless of the number of times of use

356 yen (tax included)
0 Yen
Transfer fees vary depending on the financial institution
* If the financial institution is closed, the next business day
If you would like a message card as a gift, please write your message in the remarks column of the order cart. We will print it on Mamano's postcard and deliver it with the product.
Message entry page ↓
Sample postcard ↓
From April 10, 2020, we started a 1% reduction system for the purchase price of products in online shops.
How to check points
Log in to My Page

point
You can check from.
Smartphone My Page ↓
Click the menu icon "three" at the top left of the top page to log in

Login with PC ↓
Click the person icon at the top right of the top page

How to use points
You can use points on the cart screen.
アレンジ次第で色々使えます!
そのまま召し上がるのももちろん良いのですが、200gも入っているので、
おかし作りの材料や、チョコレートドリンクにアレンジするのも良いかと!
ご自宅で本格的な味が楽しめちゃいます。
ここまで来ればチョコマニア(笑)
タップリ200g入り、実は料理にも使えます!隠し味程度にカレーやシチューに加えると華やかな香りと深みが…
ビターよりもビター!まさにチョコレート好きのいきつく先!?
お料理につかわれる方やお砂糖の入っていないくらいがいい!大好き!なんて方がこちらの商品をご購入されます
私はホットチョコレートにして自分で少しお砂糖足したり・・今日はお砂糖はいらないかな~なんて調整しちゃっています