Ehime Prefecture Orange Blessing Sweet 60g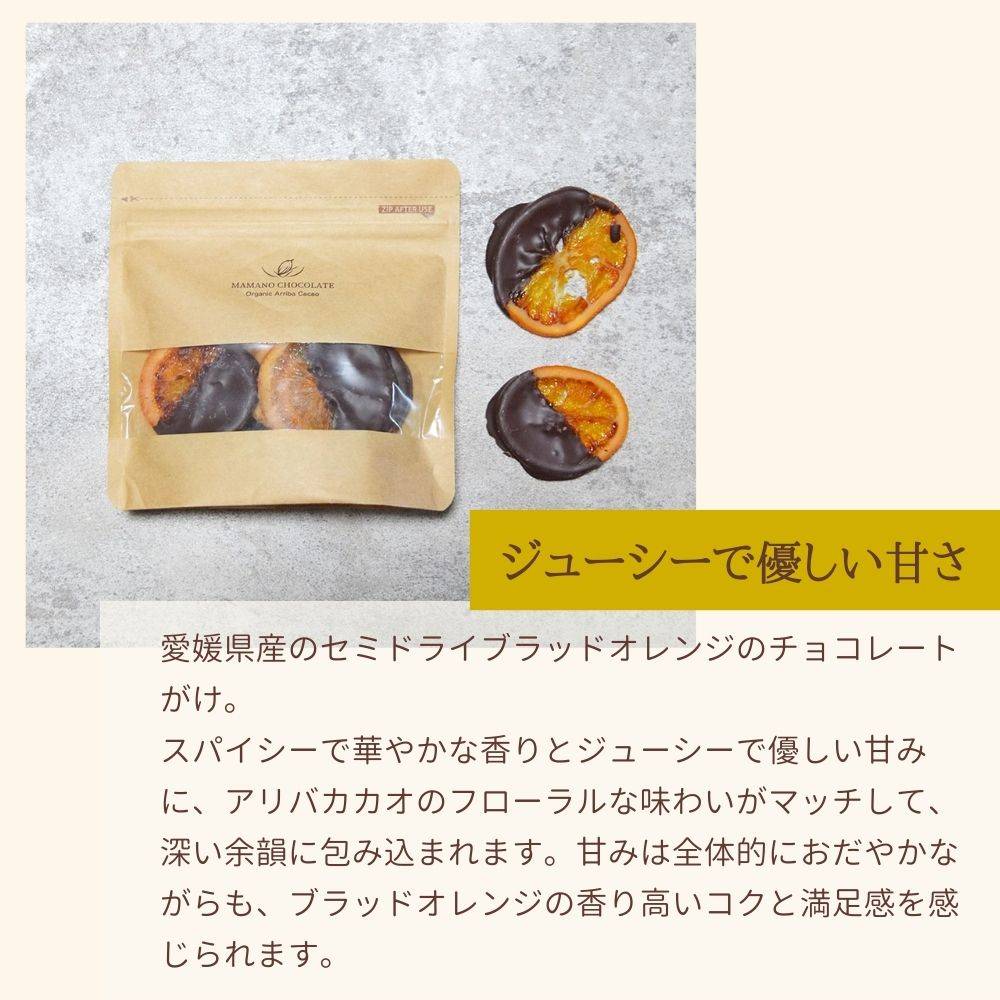 As it is refreshing, it is recommended to combine it with herbal tea.
* One bag (60g) contains about 7-9 sheets.
Precautions
The seeds have been removed as much as possible, but they may be mixed in rare cases. There is no problem if you eat it, but please be careful because it is hard.

Blood oranges may darken even during the best-by date, but this is a change due to unbleaching and non-coloring. There is no problem with the quality, so please enjoy with confidence.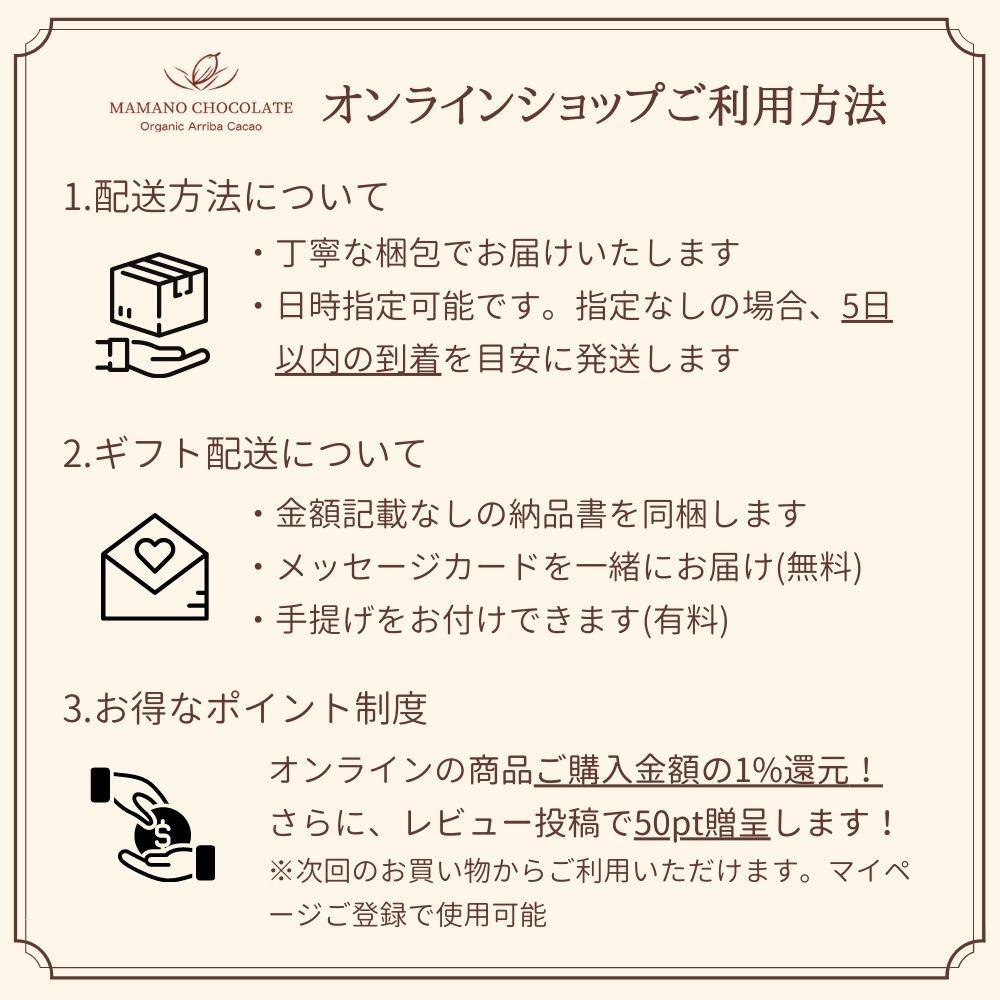 Handbag with logo (small) 50 yen
If you would like to carry it as a gift, please purchase it from the add button.
* If the handbag is not selected, it is not included from the viewpoint of reducing the environmental load.
Delivered in 30 days or more
Cold and dark place below 21 ℃
Blood orange (produced in Ehime prefecture), chocolate (Ecuador), citrus sugar, trehalose, antioxidant (vitamin C), citric acid / lecithin
1 bag (per 60g): Energy257.93kcal, Protein 1.83g, Lipid 5.83g, Charcoalized 46.76g, Salt equivalent 0g/ Estimated value(Manufactured in the same workshop as products containing milk, wheat and buckwheat)


How to use the online shop
10,000 yen or more → 500 yen
Orders less than 10,000 yen → 1,000 yen
Delivery date and delivery method
If you do not specify after ordering, we will ship within 5 days as a guide.
Products will be shipped after payment is confirmed. (If you are in a hurry, please select something other than bank transfer.)
The delivery company is Yamato Transport.
About the delivery address at the time of returnresponsible personPlease contact
About delivery temperature zone
There are two types of delivery temperature zones: refrigerated and frozen.
There are three types of product classification according to temperature range: refrigerated delivery only, frozen delivery only, and refrigerated frozen delivery.
For products that can be delivered in either refrigerated or frozen delivery, we will decide which delivery method to use, refrigerated or frozen, depending on the season, temperature, and the type of product included in the package.
If you add a refrigerated delivery only item to your cart, you cannot add a frozen delivery only item to your cart.
If you add a frozen delivery only item to your cart, you cannot add a refrigerated delivery only item to your cart.
1. Credit card
You can use VISA / Master Card / American Express / JCB.
2. Paypal
If you select Paypal, you do not need to enter shipping information because you will get Paypal information.
3. Google Pay、Amazon Pay
4. Paidy Next month payment (convenience store / bank)
We will issue an invoice on the 1st of the following month with the final billing amount closed at the end of the month, and will inform you by e-mail / SMS (short message) by the 3rd.
Payment methods are convenience store payment (convenience store installation terminal), bank transfer and account transfer.
The payment deadline is up to 10 days for convenience store payments and bank transfers. In the case of direct debit, it will be deducted on the 12th *. However, it may be 20th * in January and May.
Depending on the payment method, a fee will be charged for each monthly payment (billing). Customers are responsible for 356 yen (tax included) for convenience store payments and a transfer fee for bank transfers. No payment fee will be charged for direct debit.
Payment Method
convenience store
Account transfer

(Automatic withdrawal from bank account)

Bank transfer
Payment date
Until 10th
12th*
Until 10th
Commission paid

* Occurs only once a month regardless of the number of times of use

356 yen (tax included)
0 Yen
Transfer fees vary depending on the financial institution
* If the financial institution is closed, the next business day
If you would like a message card as a gift, please write your message in the remarks column of the order cart. We will print it on Mamano's postcard and deliver it with the product.
Message entry page ↓
Sample postcard ↓
From April 10, 2020, we started a 1% reduction system for the purchase price of products in online shops.
How to check points
Log in to My Page

point
You can check from.
Smartphone My Page ↓
Click the menu icon "three" at the top left of the top page to log in

Login with PC ↓
Click the person icon at the top right of the top page

How to use points
You can use points on the cart screen.