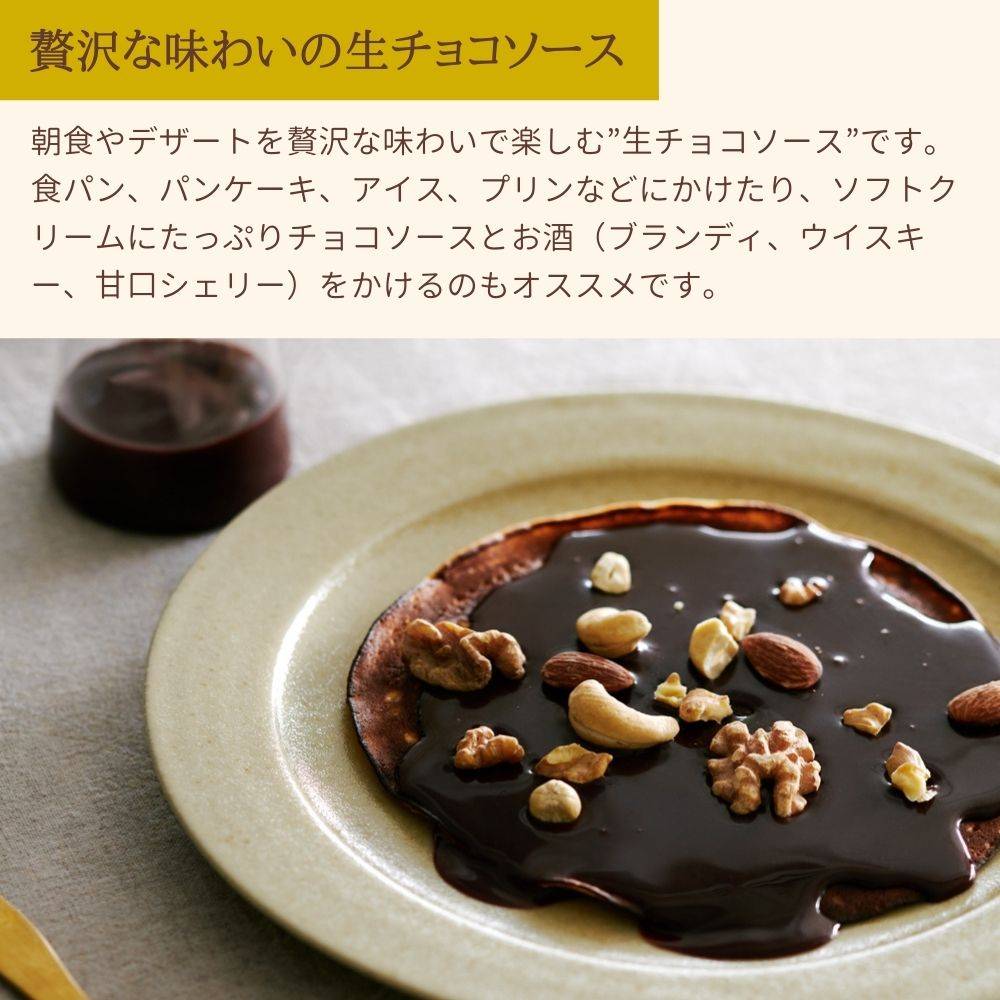 This raw chocolate sauce is a product that responds to the request to release the Ariba chocolate sauce, which was provided as a companion to products such as Mamano's chocolate pancakes and chocolate shaved ice.
The sauce, which has been adjusted for each purpose, has been redesigned from 1 so that it can be used for various purposes at home.
It has a solid chocolate feel similar to that of raw chocolate, but it is a sauce that can be easily eaten. It has a delicious "drinkable raw chocolate" texture even if you drink it as it is.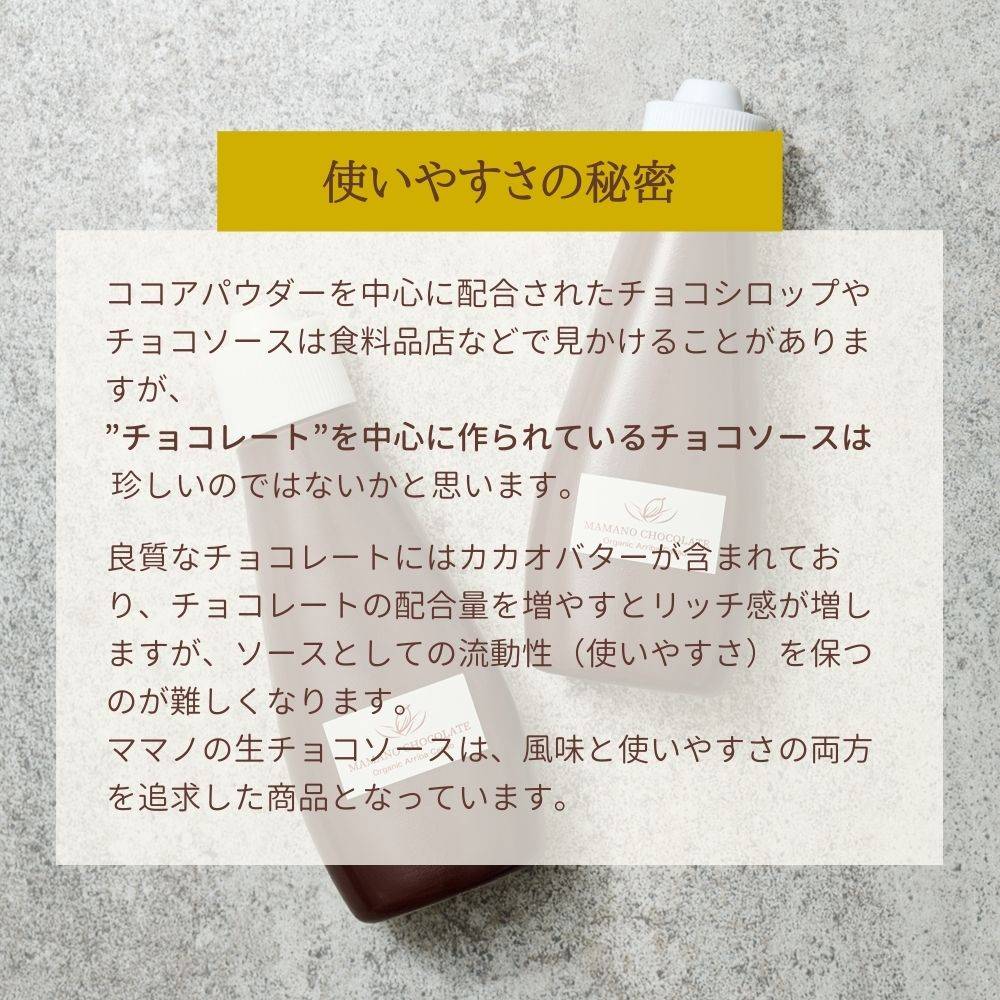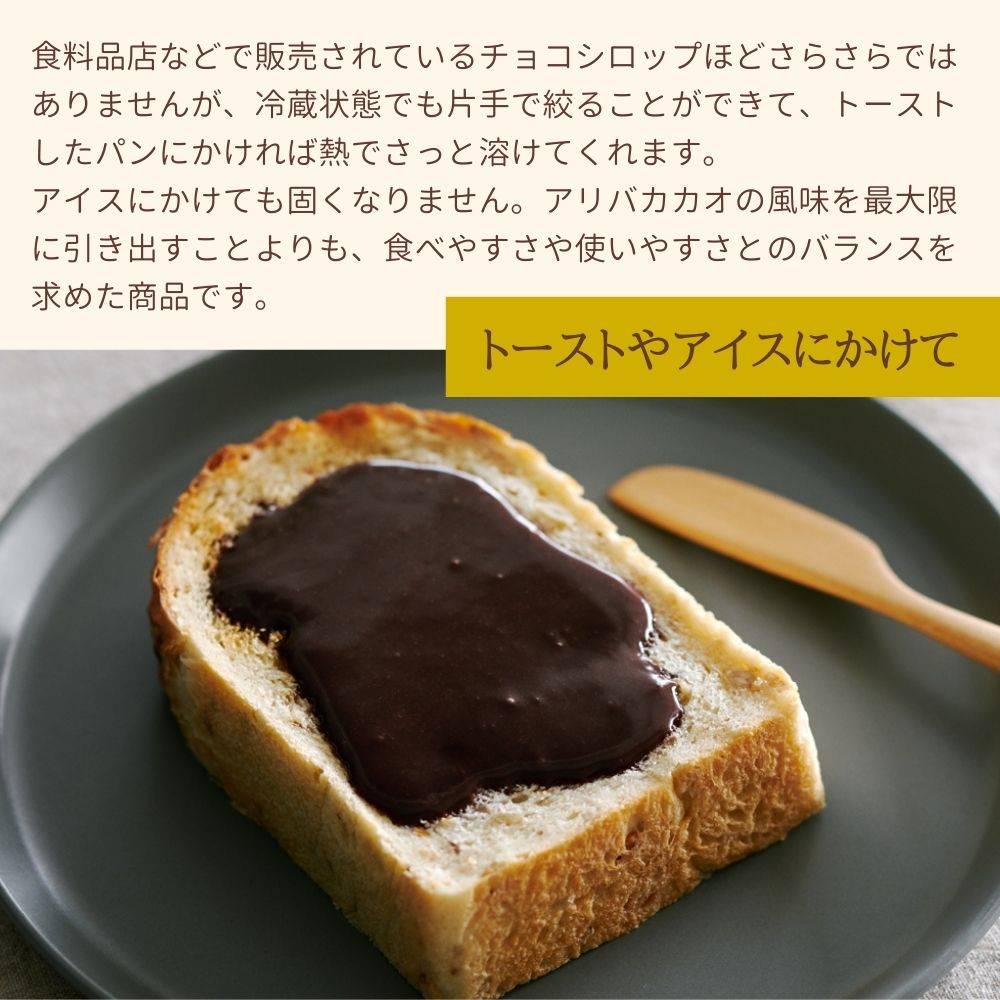 By making the aftertaste refreshing while feeling a rich cacao feeling, it does not get irritated even if it is fully applied."Drinking raw chocolate"I think that you will be satisfied even if you eat it as it is.
At Mamano, we actively select natural materials that make our bodies happy. MCT oil (medium chain fatty acid) used in fats and oils this time is not a natural material, but it has half the molecular size of general oil (long chain fatty acid), and it is good for the body to take an appropriate amount because it is digested and absorbed quickly. It is a material that is said to be.
You can use it in various situations
If you match it with dorayaki or cheesecake, it will be reborn as a new chocolate dessert.
It is a raw chocolate sauce that is useful in various situations where it would be delicious if you sprinkle "chocolate" on it. We hope that you can add color to your life.
Click here for columns and customer feedback

Handbag with logo (small) 50 yen
If you would like to carry it as a gift, please purchase it from the add button.
* If the handbag is not selected, it is not included from the viewpoint of reducing the environmental load.
Delivered in 7 days or more
Chocolate (Ecuador), sugar, MCT oil, starch syrup, cocoa powder / lecithin, (manufactured in the same workshop as products including milk, wheat and buckwheat)
Estimated value per 100g: energy318.53kcal, protein2.93g, lipid17.40g, carbohydrates37.31g, equivalent to salt 0.00g

How to use the online shop
10,000 yen or more → 500 yen
Orders less than 10,000 yen → 1,000 yen
Delivery date and delivery method
If you do not specify after ordering, we will ship within 5 days as a guide.
Products will be shipped after payment is confirmed. (If you are in a hurry, please select something other than bank transfer.)
The delivery company is Yamato Transport.
About the delivery address at the time of returnresponsible personPlease contact
About delivery temperature zone
There are two types of delivery temperature zones: refrigerated and frozen.
There are three types of product classification according to temperature range: refrigerated delivery only, frozen delivery only, and refrigerated frozen delivery.
For products that can be delivered in either refrigerated or frozen delivery, we will decide which delivery method to use, refrigerated or frozen, depending on the season, temperature, and the type of product included in the package.
If you add a refrigerated delivery only item to your cart, you cannot add a frozen delivery only item to your cart.
If you add a frozen delivery only item to your cart, you cannot add a refrigerated delivery only item to your cart.
1. Credit card
You can use VISA / Master Card / American Express / JCB.
2. Paypal
If you select Paypal, you do not need to enter shipping information because you will get Paypal information.
3. Google Pay、Amazon Pay
4. Paidy Next month payment (convenience store / bank)
We will issue an invoice on the 1st of the following month with the final billing amount closed at the end of each month, and will inform you by e-mail / SMS (short message) by the 3rd.
Payment methods are convenience store payment (convenience store installation terminal), bank transfer and account transfer.
The payment deadline is up to 10 days for convenience store payments and bank transfers. In the case of direct debit, it will be deducted on the 12th *. However, it may be 20th * in January and May.
Depending on the payment method, a fee will be charged for each monthly payment (billing). Customers are responsible for 356 yen (tax included) for convenience store payments and a transfer fee for bank transfers. No payment fee will be charged for direct debit.
Payment Method
convenience store
Account transfer

(Automatic withdrawal from bank account)

Bank transfer
Payment date
Until 10th
12th*
Until 10th
Commission paid

* Occurs only once a month regardless of the number of times of use

356 yen (tax included)
0 Yen
Transfer fees vary depending on the financial institution
* If the financial institution is closed, the next business day
If you would like a message card as a gift, please write your message in the remarks column of the order cart. We will print it on Mamano's postcard and deliver it with the product.
Message entry page ↓
Sample postcard ↓
From April 10, 2020, we started a 1% reduction system for the purchase price of products in online shops.
How to check points
Log in to My Page

point
You can check from.
Smartphone My Page ↓
Click the menu icon "three" at the top left of the top page to log in

Login with PC ↓
Click the person icon at the top right of the top page

How to use points
You can use points on the cart screen.
おいしすぎる…!
チョコソースなのですが、冷蔵庫から出してすぐは生チョコのような感じで出てきます!ママノチョコの味がしっかりしてそのままたべてしまったくらいおいしいです!!あたたかいトーストにのせればさらっと溶けます。アイスにのせるのも高級感がましてとてもおすすめです!!
とっても贅沢な気分になれるのに、たっぷり入ってて最高です!また買います!!
これ以外は食べたくない!
家でパンケーキやお菓子をよく作るので食べてみようと気軽に注文しました。正直に言うとバレンタイン用に主人と息子にチョコを買ったついででした。でもでも、パンケーキにかけてみると一気に高級なパンケーキに早変わり!なんて美味しいチョコソースなの!今までスーパーでしかチョコソースを買ったことがなかったから、本物のチョコソースがこんなにも風味豊かだなんて知りませんでした。冷蔵庫から出してすぐでも、温かいパンケーキの上に乗せると固めの塊からすっと溶けて速攻で滑らかで艶々なチョコになりストレスなく食べられます。甘すぎないので飽きません。常備しておきたい生チョコソースです!
上品な甘さ
トーストの上に、チューブから落として食べました。
トーストの熱で、チョコレートソースが溶け、パン全体に甘さが広がりました。
美味しかったです。