Ecuadorian Alibaba cacao beans 100g (unroasted, national seed-centered, Winjak union production, 2021 harvest)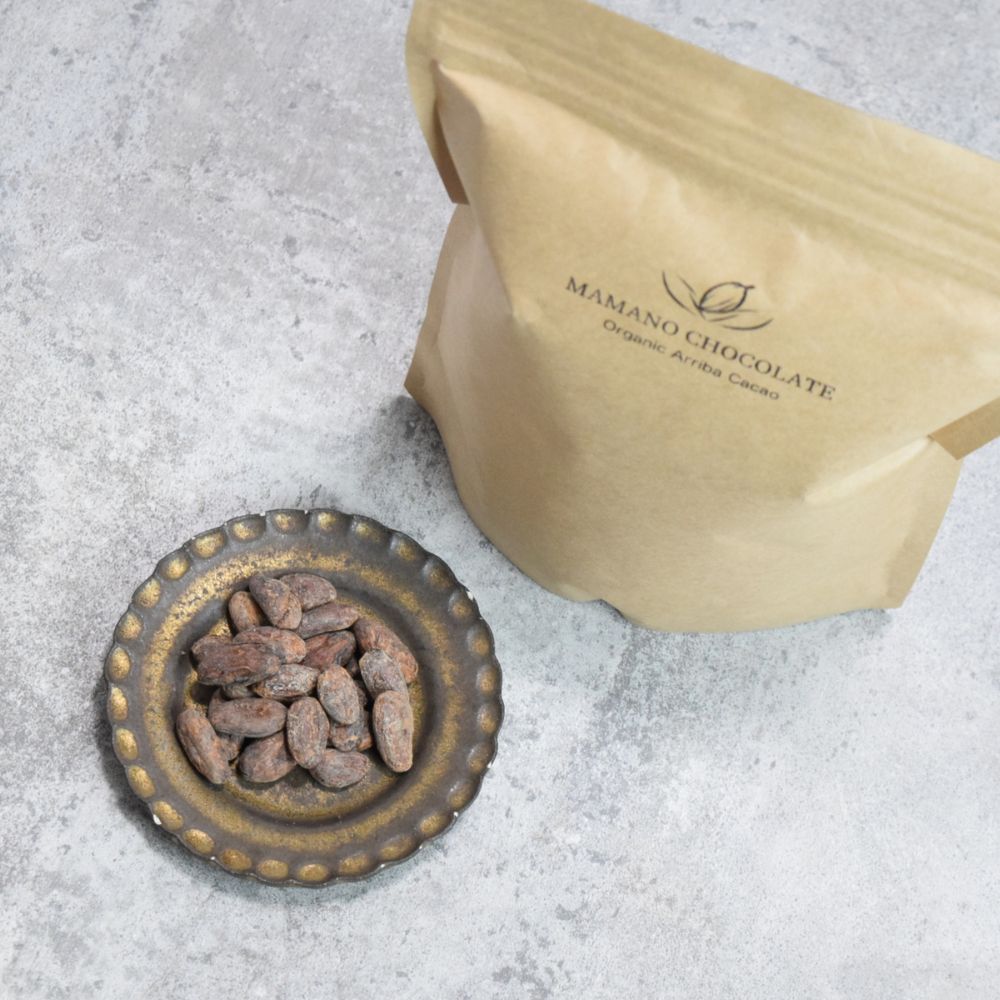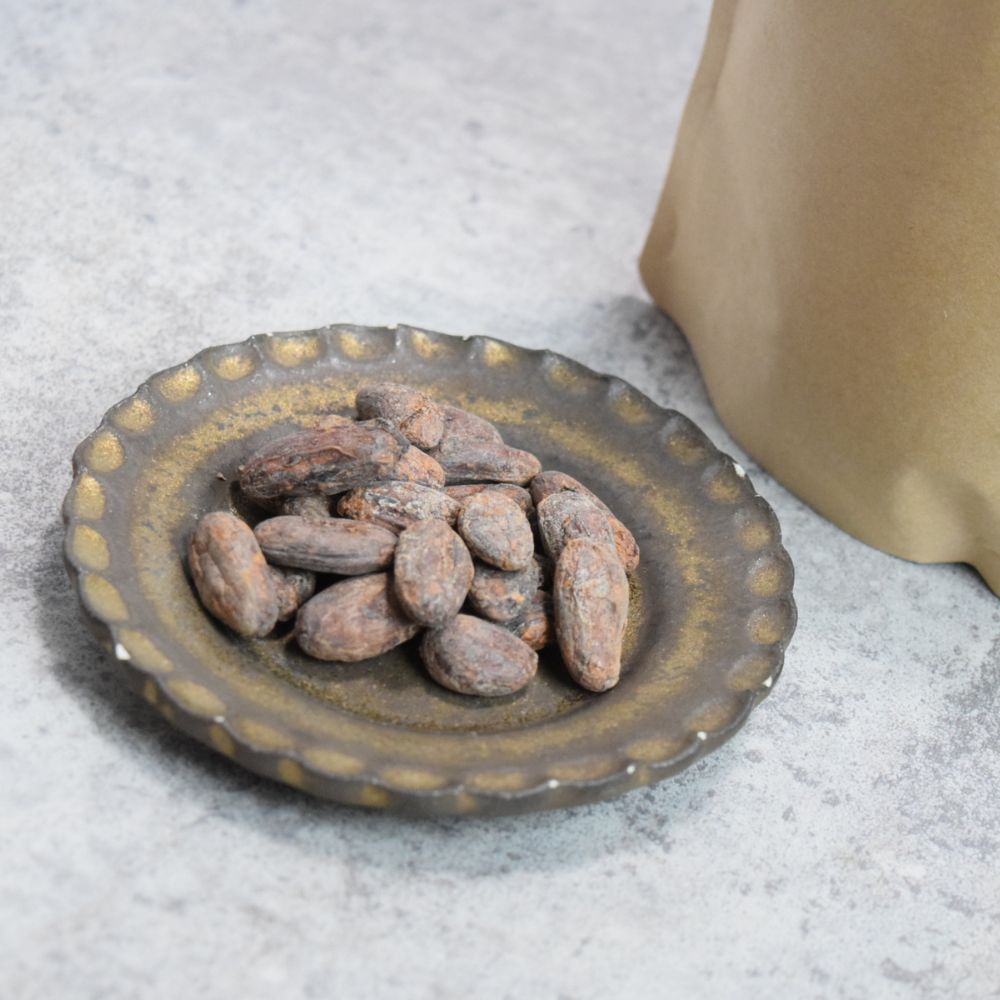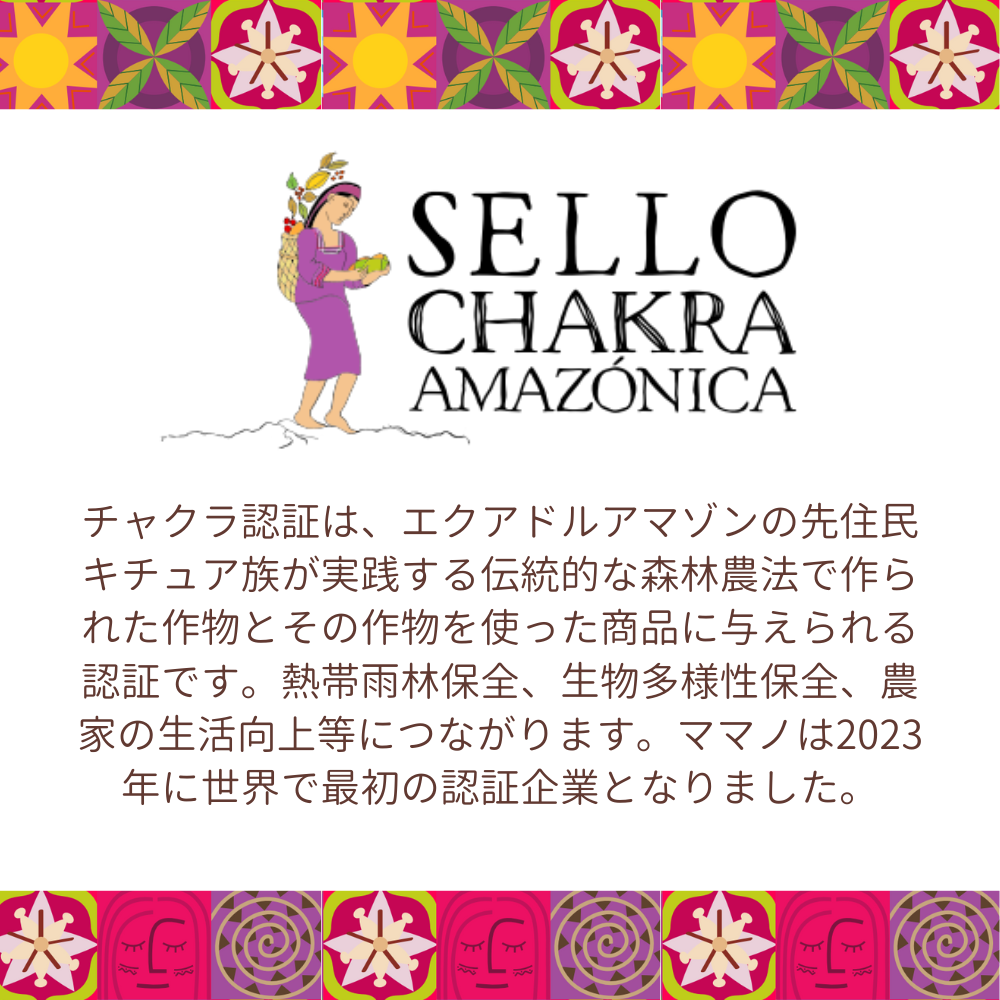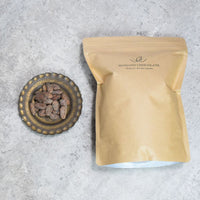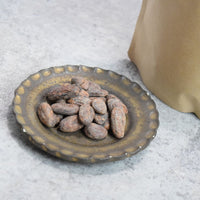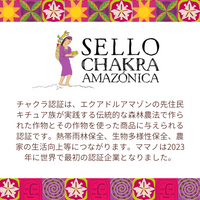 Ecuadorian Alibaba cacao beans 100g (unroasted, national seed-centered, Winjak union production, 2021 harvest)
* Cannot be consumed as it is.
* Please roast and peel off the shell before use.
* You can make handmade chocolate at home. 
About cocoa beans
2021 harvested cacao beans (before roasting) of the rare national species (Alibacao), a traditional Ecuadorian variety. We use cocoa beans cultivated by cocoa farmers in the Amazon rainforest area using the traditional agroforestry farming method (chakura farming method) that does not use pesticides or chemical fertilizers.

Cacao cultivation: Approximately 300 small-scale cacao farmers cultivate around Artidona, Napo Province, Ecuador




Fermentation and drying: WINAK union San Agustin, Via Sinchi Sacha Archidona --Napo Ecuador

Varieties: Hybrids such as Porcellana, mainly national species

Cultivation method: Chakra farming method (no agroforestry / pesticide chemical fertilizer used)

Harvest season: January-June 1 season

Import method: Air transportation

Cocoa butter content: Approximately 46-48% (Reference: CCN51 is 52-54%)

Cacao bean size: Weight per 100 grains Approximately 100-130g

Flavors: Floral, ripe bananas, cinnamon, nuts, coconut, a powerful aroma of the earth. Good balance with little sourness and bitterness. The gorgeous scent is strong and lasts for a long time. The expression changes depending on the degree of roasting and the cacao mixing ratio.
Partnership with Winhac Union
The Winhak Union is an organization co-founded by small Kechwa farmers for the development and progress of their communities and families. We support agroforestry farming methods that lead to the development of small-scale cocoa farmers, forest conservation and improvement of farmers' livelihoods, and we are attracted to the flavor of Alibaba cocoa cultivated in the Amazon region, and we are a sales partner throughout Asia. We have a long-term contract with. We would appreciate it if you could use the alibaca cacao cultivated here.
Fermentation and drying process of cocoa beans
Winjak Union buys cocoa pulp from farmers

Trucked to Post Harvest Center

Remove defective beans and impurities

Register lot

Fermentation in a wooden box for 5 to 6 days (regular stirring)

Drying by sun drying in the tent

Sort cocoa beans and remove impurities and defective beans.

Quality check

Directly conducted by local partners of Winjak and Mamano. Customers can also attend the cacao bean cut test online, so please contact us.)

The beans used in Mamano are selected from those with high fermentation and low defective beans, and only high-grade beans are packed. Poor quality beans are sold to other companies and local buyers.

Weigh and pack in a bag
How to check the quality of cocoa beans
Open 10 bags per ton (about 20 bags) and extract 300g from each

Check 100 bean samples in 2 batches

The standard values for cacao beans used by us are as follows.
Fermentation degree 75% or more

In 2021, the fermentation rate was about 88%.

Maximum mold value 1%

Maximum value of defective beans 2%

Maximum insect damage 1%

Maximum value of purple beans 10%

Maximum water content 7%

Maximum cadmium 0.5ppm
In the latest test, the fermentation degree was about 80-90%, mold, defective beans and insect pest beans were 0, and purple beans were about 5%, which are higher than the standard value, so there is no defect flavor and national varieties of cacao. You can enjoy the original aroma of beans.
If you are a corporation and would like to have cocoa beans harvested in 2022Contact us directlyplease. The harvest season is one season from January to June, and imports are carried out collectively. 
Product information

Content: 100g
expiry date
: Delivered in 30 days or more
Storage method: Cool and dark place at 21 ° C or less
Nutritional ingredients: Nutritional ingredients (per 100g) / energy 685kcal, protein 14.2g, fat 59.5g, carbohydrates 23.2g, salt equivalent 0.01g / estimated value
* Nutrition of cacao nibs inside after roasting
Allergies: None
How to use the online shop
Normal shipping
10,000 yen or more:500 yen
Orders less than 10,000 yen:1,000 yen
2. Delivery date and delivery method
If not specified after orderingArrival within 5 daysWill be shipped as a guide.
The delivery companyYamato Transportis.
About the delivery address at the time of returnresponsible personPlease contact
3. About delivery temperature zone
The delivery temperature range isTwo types, refrigerated and frozenis.
Classification by temperature zone of products isRefrigerated delivery only, frozen delivery only, refrigerated frozen delivery are all possibleThere are three types.
For products that can be refrigerated and frozen, depending on the season, temperature, and the type of product included in the package.Our shop decides which delivery method to deliver, refrigerated or frozen.We will deliver it.
You cannot order frozen-only products and refrigerated-only products at the same time.。
You can choose the payment method below.
You can use VISA / Master Card / American Express / JCB.
If you select Paypal, you do not need to enter shipping information because you will get Paypal information.
4. Paidy Next month payment (convenience store / bank)
We will issue an invoice on the 1st of the following month with the final billing amount closed at the end of each month, and will inform you by e-mail / SMS (short message) by the 3rd.
Payment methods are convenience store payment (convenience store installation terminal), bank transfer and account transfer.
The payment deadline is up to 10 days for convenience store payments and bank transfers. In the case of direct debit, it will be deducted on the 12th *. However, it may be 20th * in January and May.
Depending on the payment method, a fee will be charged for each monthly payment (billing). Customers are responsible for 356 yen (tax included) for convenience store payments and a transfer fee for bank transfers. No payment fee will be charged for direct debit.
New Column
New Column
New Column

Account transfer

(Automatic withdrawal from bank account)

Transfer fees vary depending on the financial institution
* If the financial institution is closed, the next business day
If you would like a message card as a gift, please write your message in the remarks column of the order cart. We will print it on Mamano's postcard and deliver it with the product.
7. About the point system
From April 10, 2020, we started a 1% reduction system for the purchase price of products in online shops.
How to check points
Log in to My Page

point
You can check from.
How to use points
Points can be used on the cart page.