The popular summer-only menu "Snow Mountain" is back at SONOKO CAFE in Ginza! It is on sale for a limited time from today!
Thank you for your continued patronage of Mamano Chocolate.
Today, we would like to inform you about Mamano's summer-only popular product "Snow Mountain," which we have received many inquiries.
"Chocolate Mountain" was enjoyed by many customers last year. Are you doing this year as well? I received many inquiries. However, it was not possible to provide this year because the workshop that was attached to the main store was moved to Ome.
However, in collaboration with SONOKO CAFE in Ginza, we will be able to make a revival for a limited time from July 1st today 👏👏Along with the fruit of "SONOKO CAFE" who is particular about non-oil, additive-free, and carefully selected materials, it is now available in Ginza!
The new menu created in collaboration with SONOKO CAFE is three kinds of rich chocolate shaved ice of orange, mango and blackberry!
What are the characteristics of Snow Mountain again?
Shaved ice that uses the rare "Alibacacao" and does not use even a single drop of water
The cacao used in Mamano Chocolate is the rare and valuable "Aliba cacao", which is said to be 2% of the world's cacao, selected by the representative directly from the farms in Ecuador. The most distinctive feature of Alibaba cacao is its gorgeous scent. The aroma has a lychee-like fruity taste, and is characterized by less bitterness and astringency.
In order to fully enjoy the cacao, we have realized a thick and smooth shaved ice without adding any water in the manufacturing process.
You can enjoy 3 kinds of flavors!
* Limited time offer from July 1st (Monday) to the end of September 2019.
Alibaba Cacao Orange Snow Mountain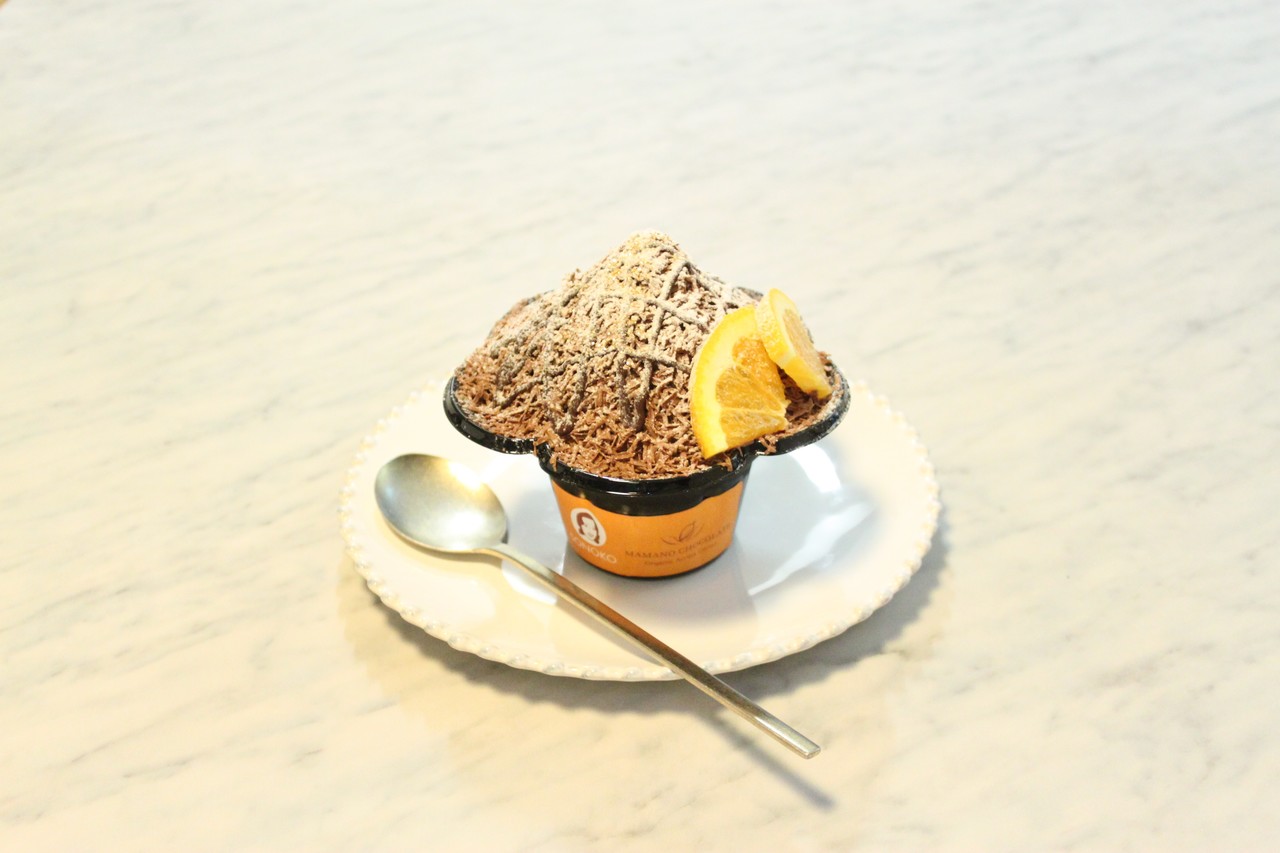 With SONOKO orange jelly, it goes well with cacao, has a low sweetness, and you can enjoy a marriage with the acidity of orange!
Eat-in: 1,480 yen (excluding tax)
Takeout: 1,204 yen (excluding tax)

Alibaba Cacao Mango Snow Mountain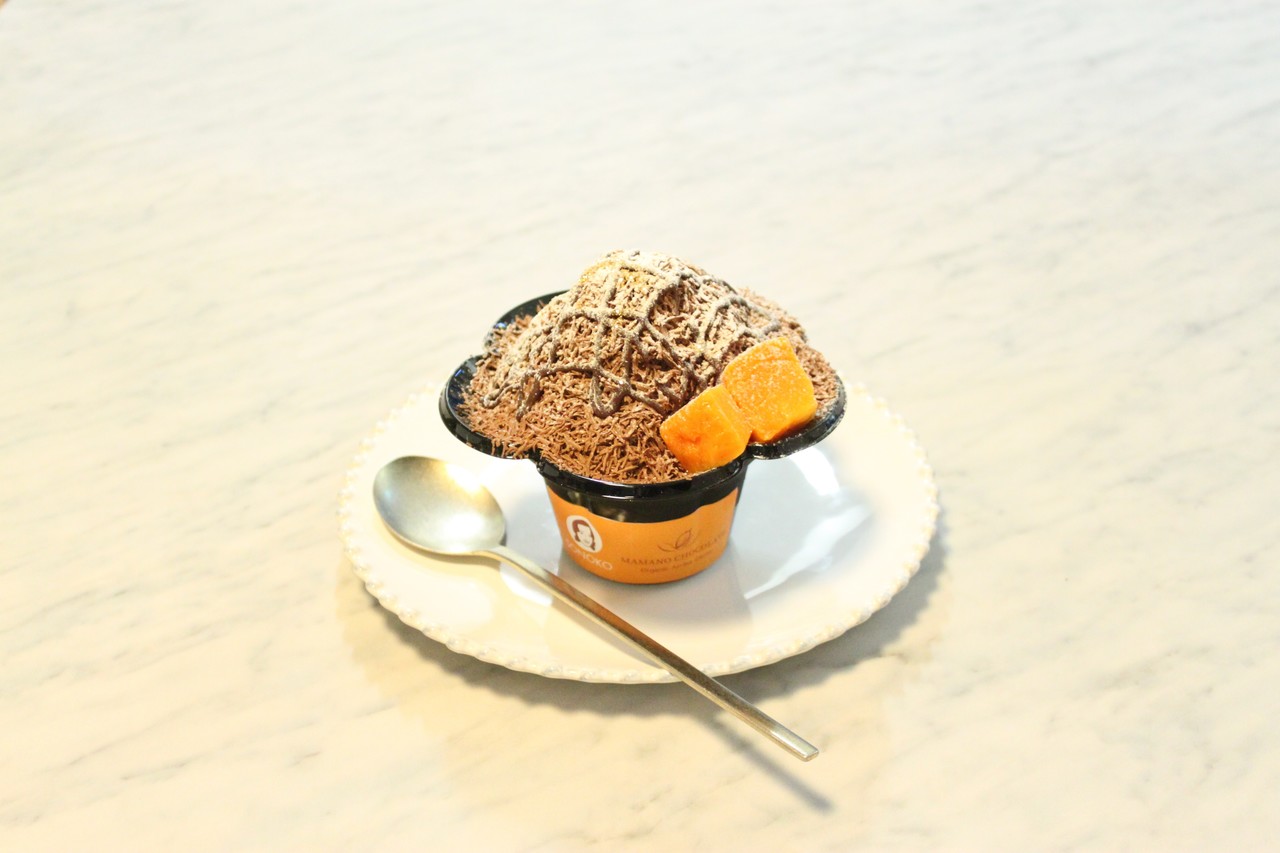 SONOKO Mango jelly is included to harmonize the sweetness and is a gem. The sweetness of organic mango goes well with chocolate!
Eat-in: 1,480 yen (excluding tax)
Takeout: 1,204 yen (excluding tax)

Alibaba Cacao Blackberry Snow Mountain
Limited quantity sale of 10 meals a day!
A limited menu of rare and rare ingredients that further harmonizes the richness of alibaca with SONOKO apple jelly and homemade blackberry sauce!
Eat-in: 1,580 yen (excluding tax)
Takeout: 1,297 yen (excluding tax)
* The photo is an eat-in menu. Take-out products have different contents.
Background to the realization of collaboration with "SONOKO CAFE"
This collaboration was realized by sympathizing with SONOKO CAFE's commitment to "non-oil, additive-free, carefully selected materials". Mamano Chocolate is also particular about "pesticide-free, direct trade, handcraft" in order to bring happiness to the world through chocolate.
Through collaboration, we would like to deliver delicious products that you can eat with peace of mind.
Not available at Akasaka Mitsuke Main Store 🙇‍♂️
This year, due to the relocation of the workshop that was attached to the Akasaka Mitsuke main store of Mamano Chocolate, it will not be offered at the Akasaka finding main store. This year's Snow Mountain offer is limited to SONOKO CAFE. Please note.
About SONOKO CAFE
Address: Ginza Sachi Building, 5-9-1 Ginza, Chuo-ku, Tokyo 104-0061
Business hours: 8: 30-22: 00 (L.O food 21: 00 / drink 21:30)
Phone number: 03-4335-7878
Regular holiday: New Year holidays
Click here for directions 👇
Please take this opportunity to enjoy the new Snow Mountain!
We look forward to hearing from you.