[Collaboration product] New release of "Alibaca Kao Frozen Chocolat" at Ginza Sonoko Cafe!
The second collaboration product with Ginza SONONO CAFE is on sale!
Our shop was also involved in recipe development"God's Chocolate Alibaka Cacao Off Rosen Chocolat"Is now on sale at Ginza SONOKO CAFE.
The frozen drinks that Mamano Akasaka Mitsuke has been offering since 2013 have not been available since the move to Ome Kobo in 2019. We hope you enjoy the chocolate frozen drink renewed by Ginza SONOKO CAFE.
the following,Press releaseReprint of.
"SONOKO CAFE", a non-oil cooking, food additive-free, and strict material developed by SONOKO Co., Ltd. (Headquarters: Ginza, Chuo-ku, Tokyo, President: Hiroaki Udagawa, hereinafter SONOKO), is an alibaca cao specialty store "MAMANO CHOCOLATE". In collaboration with God's Chocolate, we will release a rich chocolate drink called "God's Chocolate", which is a rich chocolate drink called "God's Chocolate", from August 11, 2021 (Wednesday).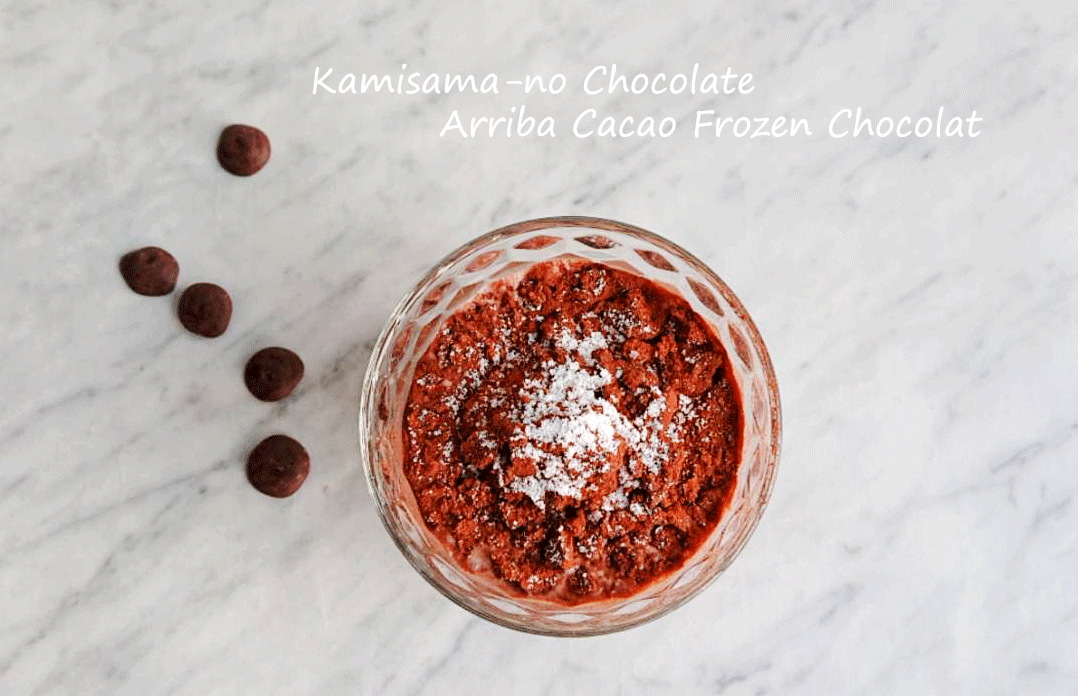 Rare "Alibacao" suitable for "God's chocolate"
Thousands of years ago, chocolate was called "God's chocolate" because it was a precious item dedicated to the king. The raw material for chocolate is cocoa beans. Currently, the Forastero species, which has a 90% share of the distribution volume, is cultivated in plantations in West Africa and is characterized by strong bitterness and weak aroma. On the other hand, "Aliba cacao", which is close to the native species, is an endemic species that is still cultivated by natural farming in Ecuador, the birthplace of cacao. It is a very rare variety.

Alibaba cacao, which is suitable for such "God's chocolate", has the greatest characteristic of a gorgeous scent, and it also contains lychee-like fruit, and it is refreshing with little astringency or bitterness, and it is possible to make fragrant chocolate. increase.

In addition, it is a unique method (chakra farming method) that is mixed with other fruits and crops and cultivated in the shade of the forest. It is kind to nature and is grown in coexistence with the Amazon.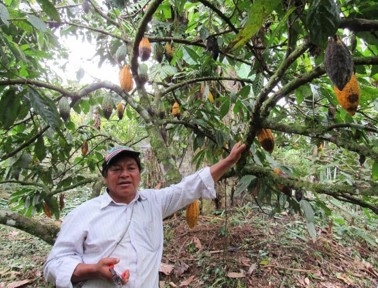 Collaboration of "SONOKO" x "MAMANO CHOCOLATE"
"MAMANO CHOCOLATE" has been the first and only organic alibacao specialty store in Japan since 2013, building long-term relationships with reliable local partners, farmers, unions, etc., non-genetically modified, organic farming, A We manufacture chocolate with a commitment to selecting only class beans. Collaboration will be realized from 2019 by matching the commitment to the rarity of "MAMANO CHOCOLATE" and the commitment to food of "SONOKO". Every year, SONOKO CAFE offers "Snow Mountain", an alibacao chocolate ice cube, for summer only.
A luxurious chocolate drink is born in the summer of 2021!
This summer, the cool and delicious chocolate drink "God's Chocolate Alibaka Cacao Off Rosen Chocolat" will be released. The taste is a luxurious use of the popular Snow Mountain chocolate ice and the chocolate sauce of Alibaba cacao itself, and the rich chocolate cookie "Soft Cookie Chocolate Flavor", which is very popular at SONOKO, is crushed into small pieces and topped. The rich triple chocolate of chocolate x chocolate x chocolate is finished as an adult drink that is perfect for Ginza with its bitter sweetness. Please try this new "drinking sweets" once!
■ God's Chocolate Ali Bacao Frozen Chocolat
EATIN:
900 yen (tax included)
TAKEOUT:
800 yen (tax included)

Release date: Wednesday, August 11
What is SONOKO?
Known as the "Queen of Whitening" in the late 1990s, Sonoko Suzuki's brand has established itself as a leading beauty and health researcher in Japan. We believe that "true beauty" is due to good health, and since our founding, we have advocated "internal and external beauty" that makes the body beautiful from the inside and outside, and mainly develops the food, supplement, and cosmetics businesses. We have "SONOKO CAFE" in Ginza 5-chome, which offers a non-oil cooking and additive-free menu.
Company Profile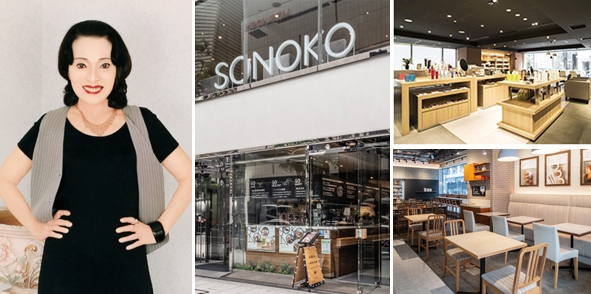 Trade name: SONOKO Corp.
Headquarters location: 104-0061
5-9-1 Ginza, Chuo-ku, Tokyo Ginza Sachi Building 1F / 2F
Representative: Hiroaki Udagawa, President and CEO
Business: Manufacture and sale of foods, supplements and cosmetics that support beauty and health
Operates restaurants (cafes), sells and provides services overseas
Official site:www.sonoko.co.jp
Store overview
Official name: SONOKO CAFE
Address: 104-0061
Ginza Sachi Building, 5-9-1 Ginza, Chuo-ku, Tokyo
Business hours: 11:00~19:00 (Food L.O. 18:00 Drink L.O. 18:30)
Phone number: 03-4335-7878
Regular holiday: Irregular holiday * Some business hours have been changed to prevent the spread of the new coronavirus.
Format: Eat-in / Take-out
Number of seats: 59 (all seats are non-smoking)
Operating entity: SONOKO Corp.