Ariba chocolate cream Christmas decoration cake [No. 5] -Mamano chocolate-
Christmas is with a hearty cake
Mamano's first!
We have prepared a "Christmas decoration cake" using chocolate cream.
Based on a plain sponge, between the spongesChocolate cream and domestic strawberriesSandwich 🍓.
In decorationChocolate cream, strawberries, chocolate, card chocolateWas topped.
Floral scent of alibaca cao, smooth sponge that melts in the mouth, refreshing strawberry acidityPlease enjoy the exquisite combination of.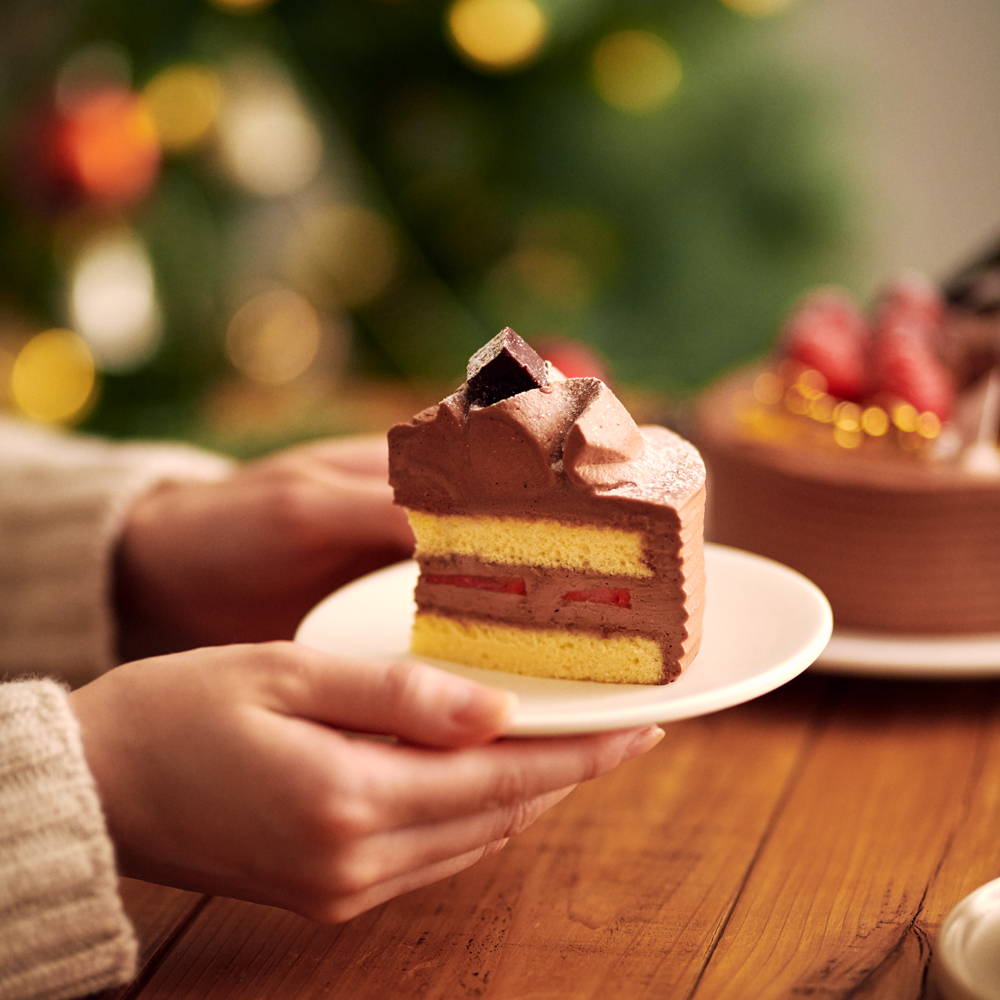 Diameter 15 cm sizeBy providing at4 to 6 peopleWe recommend you to eat it at. It has a well-balanced and light taste, so if you like cakes, you may be able to eat it lightly even in one hole!
No alcohol used. You can enjoy it with confidence even for children.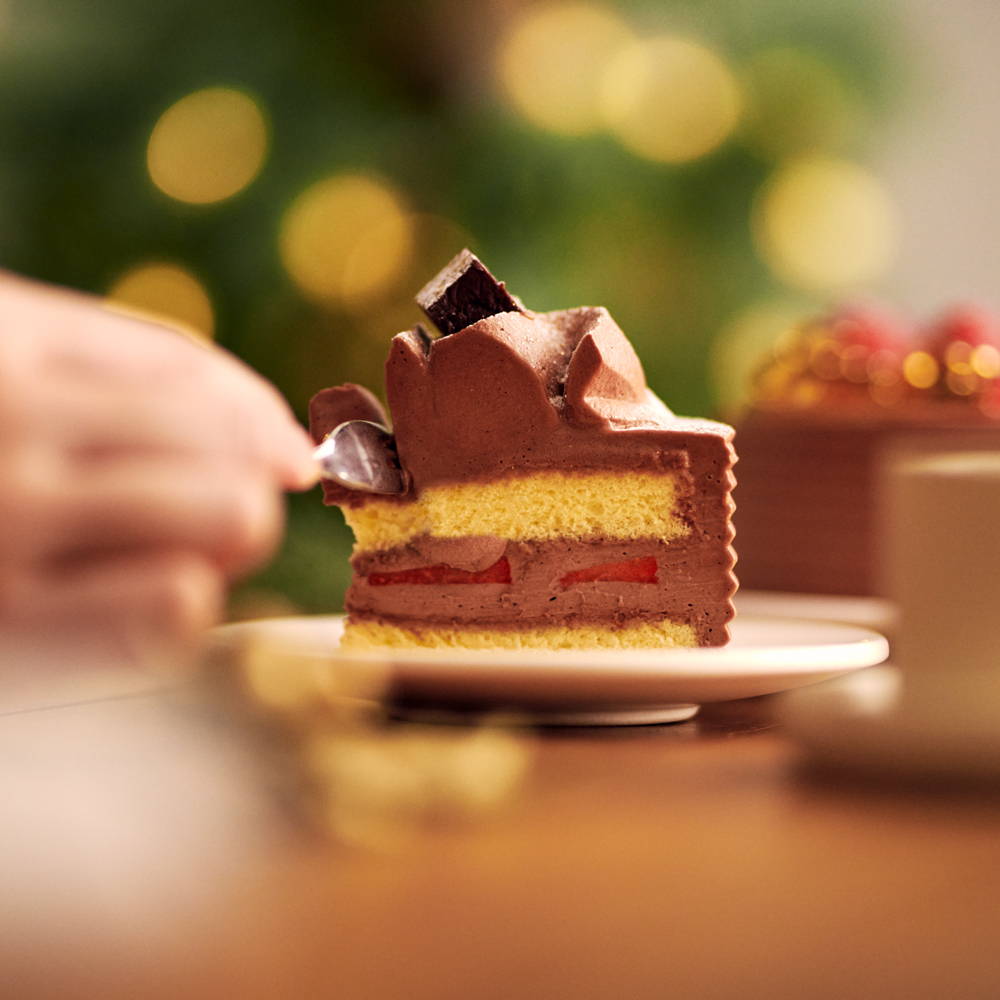 Commitment 1 "Chocolate cream"
Chocolate cream is Ariba chocolateBlended exclusively for Christmas cakesMamano original. You can feel the unique floral scent of Alibaba cacao. It is a cream that pursues the contradictory elements of being light and satisfying to eat.

Commitment 2 "Sponge"
The sponge is based on plain and pursues familiarity with cream. It is characterized by its good melting in the mouth, where you can feel the umami of wheat and melt it together with the cream.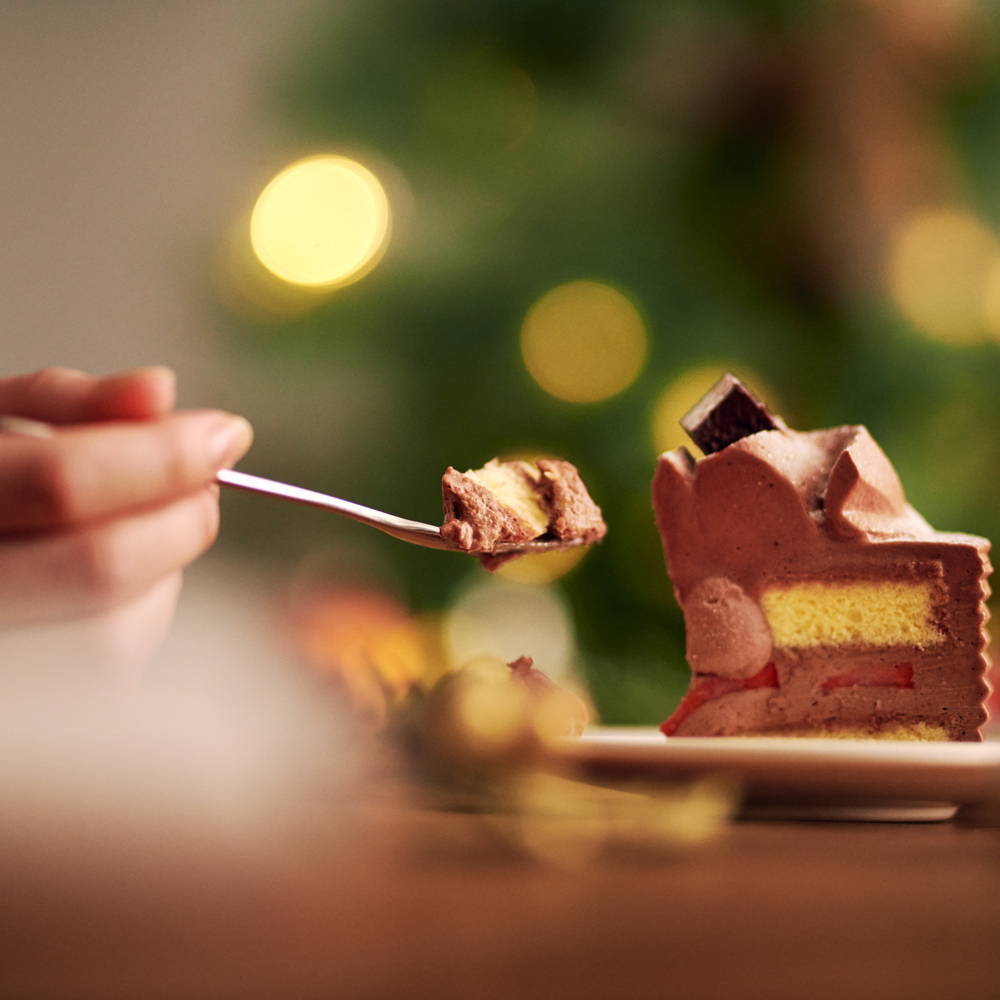 Commitment 3 "Strawberry 🍓"
Strawberries are cut thick and sandwiched luxuriously. The rich aroma of Alibaba cacao, moderate acidity and fresh sweetness are the best accents.

Commitment 4 "Decoration"
Not only chocolate cream and strawberries, but also standard productsCard chocolate, raw chocolate milkTopping. Finished with powdered sugar and gold powder to create a Christmas-like appearance, the composition is such that you can tell at a glance that it is a Mamano Christmas cake.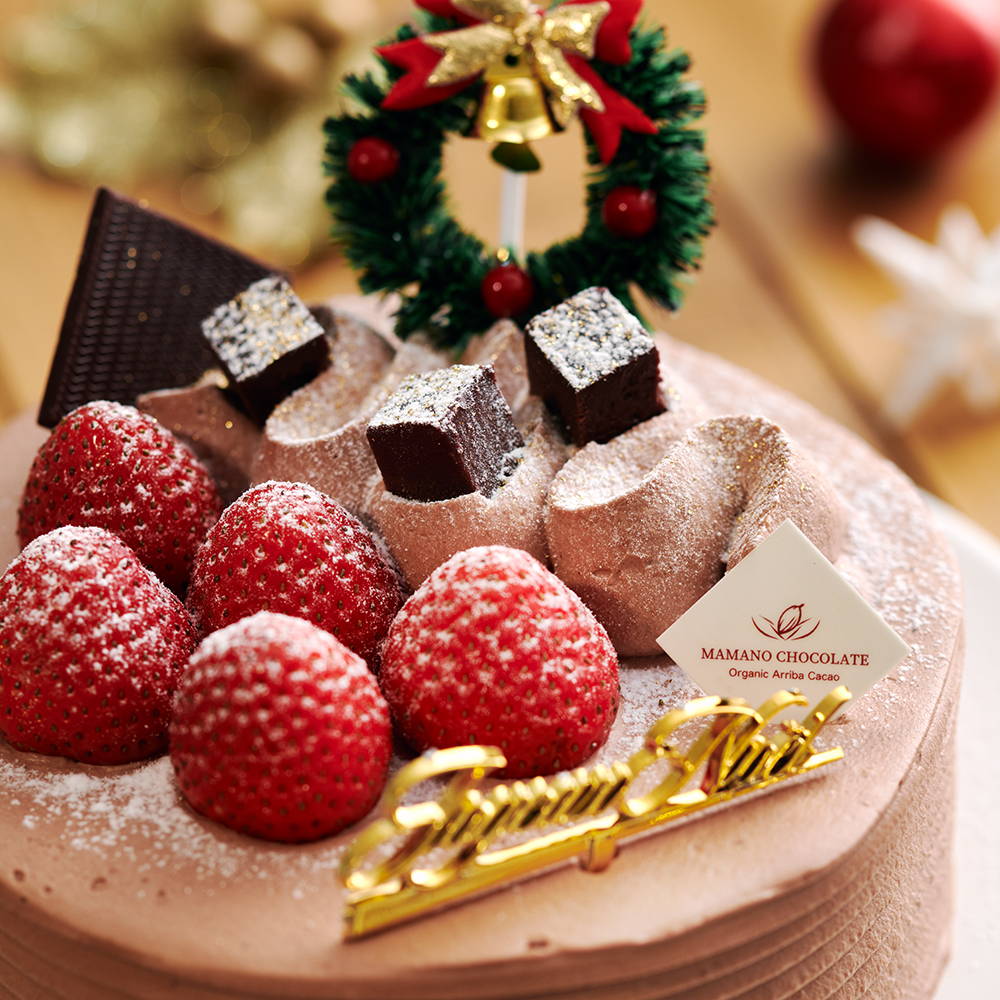 For Christmas 2020, please spend a wonderful time with your loved ones at Mamano's Christmas cake.
[Product price] 5000 yen (tax included)
[Reservation deadline]
The reservation has been closed.
For sale on the day of December 24th and 25thWe will also prepare a small amount.
[Delivery method and date and time]
Handed over to Akasaka Mitsuke store
(1st floor of Akasaka Floral Plaza, 3-8-8 Akasaka, Minato-ku, Tokyo)
Thursday, December 24th, 11: 00-20: 00
December 25 (gold) 11:00-20:00
* The delivery time will be separated every 2 hours.
* We will inform you of the receipt confirmation time after December.
Chocolatier Honma
"The dessert you eat at the end of your meal is directly linked to the overall impression of the meal, and if the dessert is delicious, it will be a great memory. We will deliver a Christmas cake that is suitable for ending the Christmas dinner."

Manager Nakajima
"Last year, despite many requests from our customers, we couldn't deliver it to you. We are pleased to offer a Christmas cake this year.
I bought it every year since I joined the company, but I'm also one of the fans who was relieved at Christmas cakes with different tastes every year (laugh)
This year, we have been making prototypes and tastings many times from an early stage, and all the employees have shared their opinions and completed the cake. From now on, I'm thrilled that it will be like a Christmas topping that will be deeply engraved in the memories of customers, and I'm excited to see the smiles of customers at the store as soon as possible.
With your lover, family, and friends ... Try topping Mamano's chocolate cake at a chocolate specialty store for such a wonderful Christmas. "

Store staff Sugaya
"I joined the company this year, and Mamano's Christmas cake was my first experience.
The overall taste is gentle, but the aroma and bitterness of alibaka cacao can be felt firmly, so I think it is a cake that will please a wide range of people.
Of course, I also want chocolate lovers to try it!
We supported the tasting and design, so I hope we can deliver Mamano's Christmas cake to as many people as possible.
May Mamano be a wonderful Christmas artist. "


Store staff Kobayashi
"We always aim to deliver the highest quality products.
The Christmas cake has been on sale for the first time since 2017, and we have been working on the development so that we can update the highest quality so far. Please enjoy Mamano's Christmas cake. "
"What kind of year will 2020 be for you?

At Mamano, while being chased by the planned cancellation of the opening of the Ginza store and the response to changes in the city, a cacao exhibition was held jointly with the Ecuadorian embassy, a prize was awarded at the Chocolate Award Asia, and a new product using domestic fruits was used. It was a year when we made new attempts such as providing products and pancake kits to enjoy our time at home.

It was 2020, with the support of many people, both those who have been supporting us since our founding in 2013 and those who have newly learned about Mamano. I am grateful for the many messages of support to the store.

I hope everyone involved in Mamano will have a memorable time with their loved ones. "