Reservations start on Saturday, March 27! Japanese Single Malt Whiskey Peted 3 types 6 pieces box [Limited]
Introducing a limited number of new products!
Released on Valentine's Day 2021"6 kinds of Japanese single malt whiskey"Bonbon Chocolat was very well received.
We have received requests from many customers for the next product, and have developed a new product that allows you to enjoy eating and comparing the single malt second release (the second product in the distillery) of the whiskey craft distillery that is currently attracting attention.
Reservation starts from Saturday, March 27、At the store, Thursday, April 1stStart handing over fromApril 3 (Sat) at the online shopSubsequent delivery can be specified.
Click here for online shop
→ https://mamano-chocolate.com/collections/bonbon-chocolate/products/peated3
Click here for the store reserve form (starting delivery on April 1)
 The whiskey used in this bonbon chocolate isSecond release of Akkeshi Distillery, Asaka Distillery, Tsunuki Distilleryam.
All three types of whiskey are made with peat malt (peat, a peat / malt-fired malt with a unique scent) that has a distinctive scent and is a favorite finish for professionals.
By combining the three types of whiskey with the sweet and milky Ariva chocolate, you can enjoy it without having a peat feeling, and you can feel the individuality of each distillery.
There are various ways to express "Pete's smoke", and the three types of whiskey used this time also clearly show the individuality of each distillery.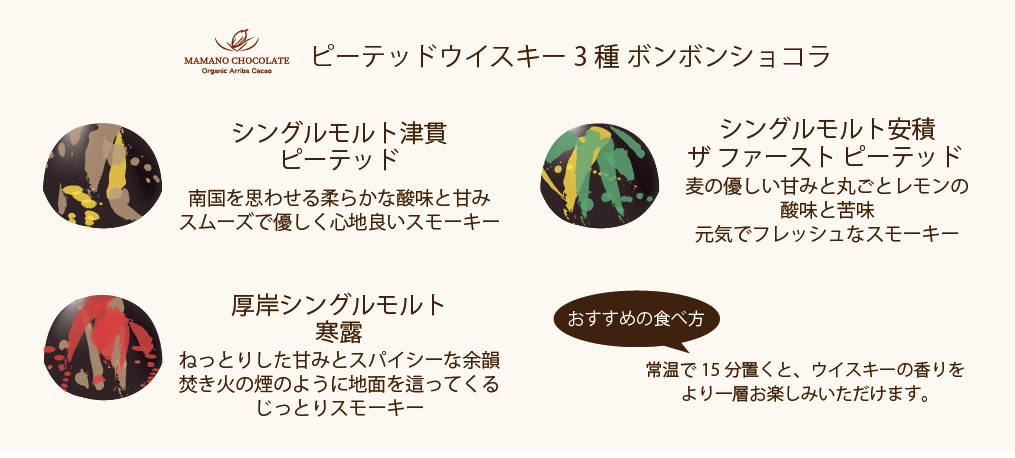 AkkeshiSticky sweetness and spicy finish. A moist smoky that crawls on the ground like the smoke of a bonfire.
AsakaIs the gentle sweetness of wheat and the sourness and bitterness of whole lemon. Energetic and fresh smoky.
TsunukiHas a soft acidity and sweetness reminiscent of a tropical country. Smooth, gentle and comfortable smoky. Whiskey with peat (feels peat scent) has different tastes, but it is a very mysterious flavor that often becomes addictive after being carried to the mouth several times even if it is not good at first.
price
3000 yen (tax included)
internal volume
Delivered in 7 days or more
Chocolate (from Ecuador), cream, whiskey, butter, water candy, converted sugar, whole milk powder / sunflower lecithin, coloring (cocoa butter, titanium dioxide, yellow 4, red 40, blue 1, blue 2)
Per box: Energy 225.27kcal, Protein 2.17g, Fat 12.97g, Carbohydrate 17.97g, Salt equivalent 0.02g / Estimated value (manufactured in the same workshop as products including wheat and buckwheat)
milk
Check here for the latest information ▼